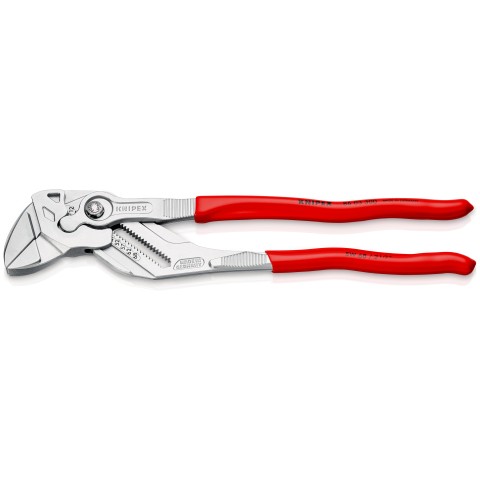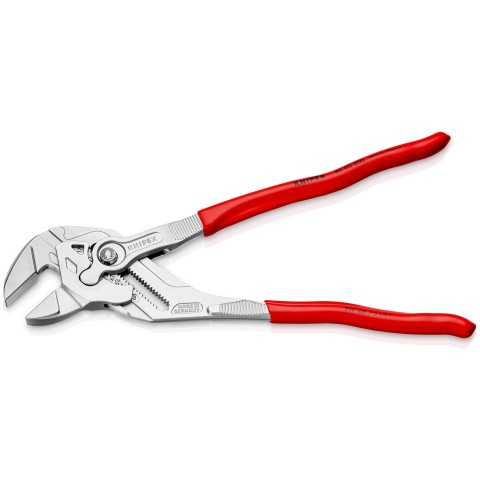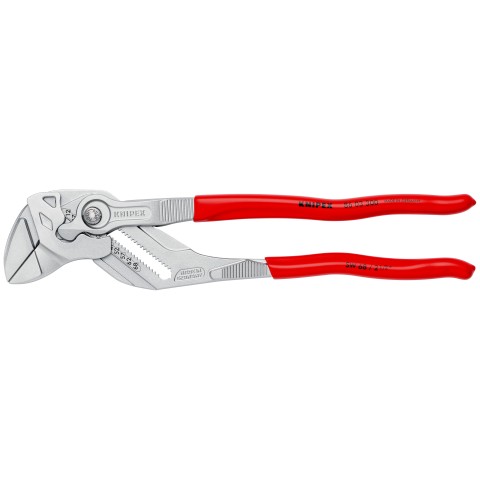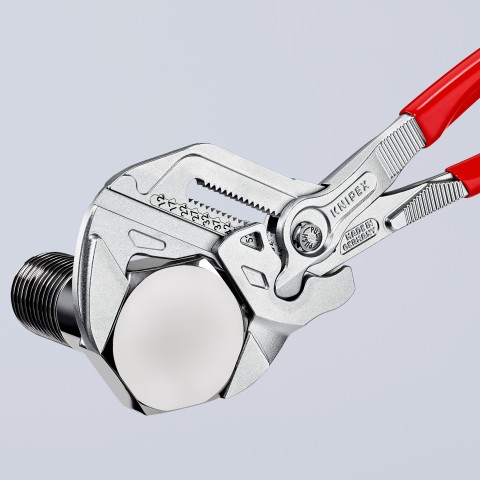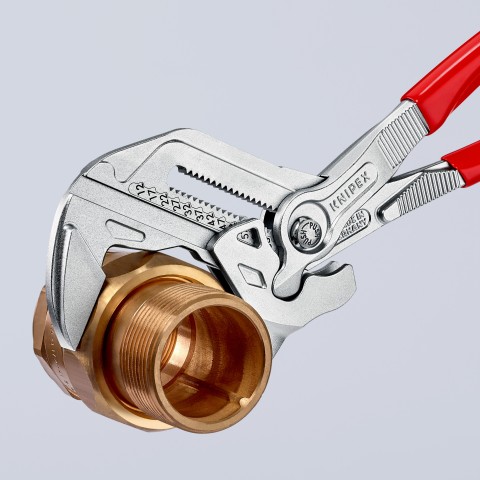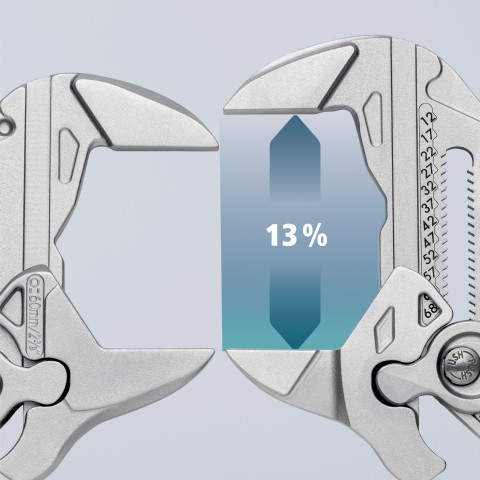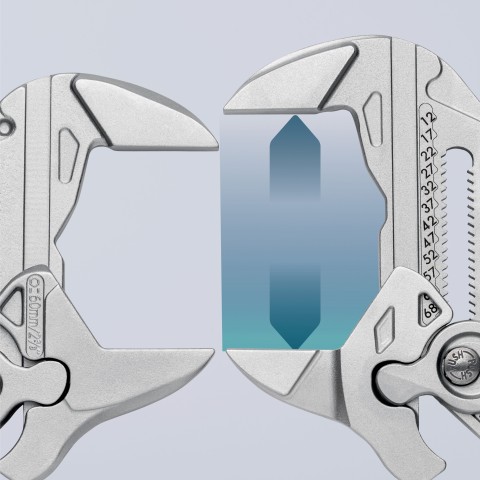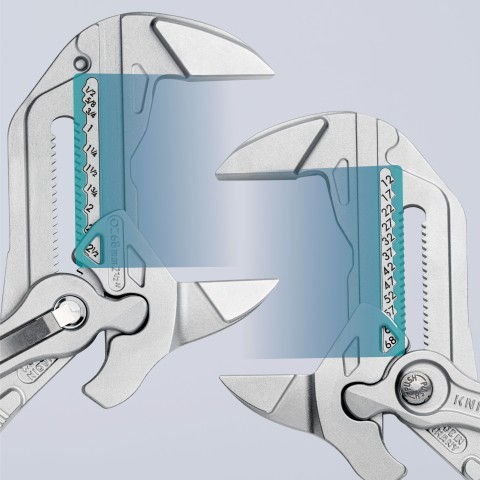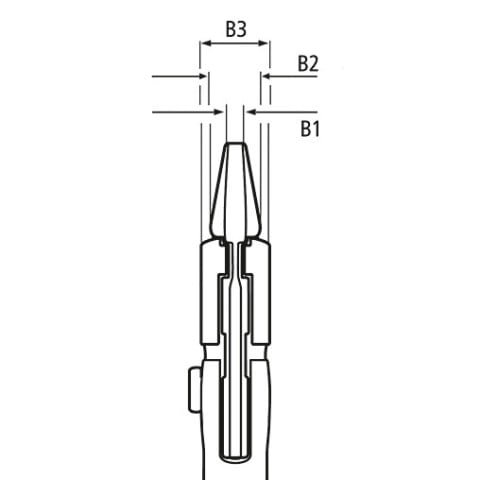 86 03 300

Pliers Wrench

Pliers and a wrench in a single tool
Replaces the need for sets of metric and imperial spanners
Smooth jaws for damage free installation of plated fittings - working directly on chrome!
Also excellent for gripping, holding, pressing and bending workpieces
Zero backlash jaw pressure prevents damage to edges of sensitive components
Fast adjustment by pushing a button directly on the workpiece
No unintentional shift of the gripping jaws and no slipping of the joint
Parallel jaws give a more solid grip; its design allows flexible adjustment of all widths up to the specified maximum size
The ratchet type principle allows quick and easy tightening and release of all bolted connections
Lever transmission greater than 10 : 1 for strong gripping power
Chrome vanadium electric steel, forged, oil-hardened
Technical attributes
Jaw thickness (joint) (B2)
KNIPEX pliers wrench 86 03 300, chrome plated: pliers and wrench in one, 300 mm in length
Now even better: KNIPEX pliers wrench with a length of 300 mm – grips widths across flats of up to a diameter of 68 millimetres (2 1/2")
The KNIPEX pliers wrench, combining pliers and a wrench, is a real all-rounder and a vital part of any tool case. It replaces an entire set of wrenches, both metric and imperial. The new model with a length of 300 mm weighs around 80 g less than the previous model. Continuous gripping of widths across flats up to 68 mm (maximum 2 1/2"). Two practical laser-cut scales help to adjust the pliers wrench to the required width across flats (front metric, rear imperial) in advance. The gripping jaws can be adjusted quickly, reliably and conveniently using a push button. Thanks to smooth, parallel jaws, screw connections with sensitive surfaces, such as fittings, can also be screwed gently into place – all without any damage. In addition, the pliers wrench does not have to be removed when loosening or tightening nuts: The action of the gripping jaws permits screwing according to the ratchet principle.
Also for gripping, pressing or bending
This proven tool can also serve as a mobile vice. Its high transmission ratio of approximately 1:10 enables an enormous increase in manual force for safely holding, gripping, pressing or bending workpieces. As an alternative to adjustment using the push button on the workpiece, the desired width across flats can be pre-adjusted in advance using the scale.
Brief overview
Grips widths across flats up to Ø 68 mm (2 1/2") thanks to two additional adjustment positions
Noticeably less weight, 80 grams lighter with the same stability
The laser-cut scales (metric and imperial) enable pre-adjustment of the width across flats.
Replaces an entire set of wrenches, both metric and imperial
Smooth jaws for damage-free installation of fittings with surface finishes – work directly on chrome
High lever transmission thanks to 10-fold manual force amplification

Protects sensitive materials
The continuously adjustable gripping jaws are parallel in every position: They grip the surface without play. This prevents damage to the edges, which is particularly important when working on parts with sensitive surfaces such as chrome, brass or plastic.

Optimised version with laser-cut adjustment scales
The new versions of the proven pliers wrench can be recognised by the laser-cut scales for pre-adjusting the handle widths: metric millimetre specifications (shown in illustration) on the front of the pliers, and inches on the back.

Quick adjustment at the touch of a button
The gripping capacity is easy and safe to adjust thanks to the spring-loaded push button: easy to use, no unintentional shifting and extremely time-saving.

Work quickly thanks to the ratchet principle
Similar to a socket or ratchet wrench, the pliers wrench can be used for screwing without needing to remove and reposition it on the workpiece.

Multifunctional working
Whether bending, pressing or straightening work: the pliers wrench grips reliably.

Fast adjustment at the touch of a button
Replaces a whole set of spanners: can be adjusted at the touch of a button directly on the component (up to 60 mm).

Smooth gripping jaws
The Knipex pliers wrench is characterised by zero backlash component contact, thereby permitting gentle work on sensitive surfaces.