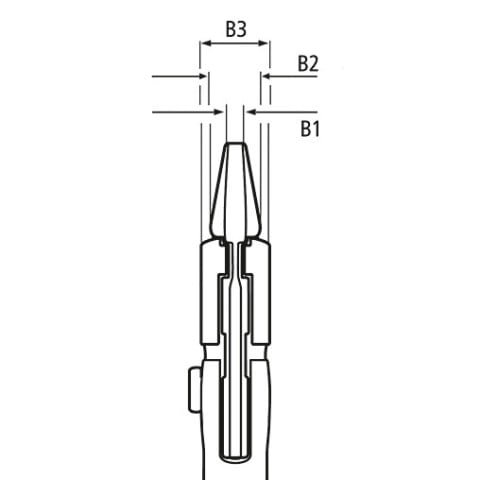 86 03 150

Pliers Wrench

Pliers and a wrench in a single tool
Replaces the need for sets of metric and imperial spanners
Smooth jaws for damage free installation of plated fittings - working directly on chrome!
Also excellent for gripping, holding, pressing and bending workpieces
Zero backlash jaw pressure prevents damage to edges of sensitive components
Push the button for adjustment on the workpiece
No unintentional shift of the gripping jaws and no slipping of the joint
Parallel jaws give a more solid grip; its design allows flexible adjustment of all widths up to the specified maximum size
The ratchet type principle allows quick and easy tightening and release of all bolted connections
Lever transmission greater than 10 : 1 for strong gripping power
Chrome vanadium electric steel, forged, oil-hardened
Technical attributes
Jaw thickness (joint) (B2)
Pliers and spanner in a single tool
The small Knipex 86 03 150 pliers wrench – for small components and work in confined spaces
With its small size of 150 mm, the pliers wrench fits in any pocket, while also replacing a whole set of spanners - metric and imperial. It grips all widths up to 27 mm or 1 inch, and can be adjusted quickly and directly on the component at the push of a button. The hinge bolt then engages securely, preventing inadvertent adjustment. When under tension, the smooth gripping jaws are parallel to each other in every position, and hold the component accurately and with zero backlash, without damaging edges and sensitive surfaces such as chrome or brass - important during plumbing and heating installation for example.
Pleasant to use
The proven ergonomics of the handles with plastic coating guarantee an agreeably comfortable, non-slip grip – even with frequent use. The pliers wrench holds even the smallest objects as securely as a bench vice. Flat objects can be gripped extremely well and processed simply thanks to the high pressing force and parallel jaws.
Work according to the ratchet principle: the ratchet function between the gripping jaws permits screwing in a similar way to a ratchet, enabling screw connections to be loosened or tightened quickly without the need to reapply the wrench after every screw movement.
Many additional application options
The pliers wrench grips, screws, bends and presses even hot, sharp-edged, dirty, particularly small or slippery objects. It holds objects powerfully and securely at all times, while also enabling sensitive and measured insertion, such as of connector halves or assembly components. It is also a useful helper when working with contact adhesives (pressing to activate the adhesive force) or when breaking open cable ties. It is an equally versatile aid during installation, maintenance and repair work as when in the car or boat or when out on a motorbike or cycle.
Knipex quality: the 86 03 150 pliers wrench is manufactured in the Knipex factory in Wuppertal-Cronenberg using quality materials. As with the other models of pliers from the Knipex think tank, it stands for top quality and therefore - when used correctly - also for exceptional durability.
Brief overview
Screws, grips, holds, bends and presses
Replaces a whole set of spanners
Flexible gripping up to 27 mm or 1 inch
Also for work in confined spaces
Ideal for working on small components
Protects sensitive surfaces
Direct working on chrome, brass etc.
Fast adjustment on the component at the touch of a button
No inadvertent adjustment
Time-saving according to the ratchet principle.
10-fold reinforcement of manual force
High performance chrome vanadium steel
Space-saving universal key
The pliers wrench is ideal for work on particularly small screw joints.
Firm hold
Can be used as a small bench vice: small components can be held securely using the 150 mm long pliers wrench.
Ideal helper
The pliers wrench repeatedly proves its value as a space-saving universal key on board or in the car.
Gentle application
The smooth gripping jaws ensure that sensitive surfaces are protected so that work is gentle on materials.
Multifunctional working
Whether bending, pressing or straightening work: the pliers wrench grips reliably.
Fast adjustment at the touch of a button
Replaces a whole set of spanners: can be adjusted at the touch of a button directly on the component (up to 27 mm).
Smooth gripping jaws
The Knipex pliers wrench is characterised by zero backlash component contact, thereby permitting gentle work on sensitive surfaces.
By way of comparison: conventional spanner
With a conventional spanner, the pressing on edges can damage the edges of screws.