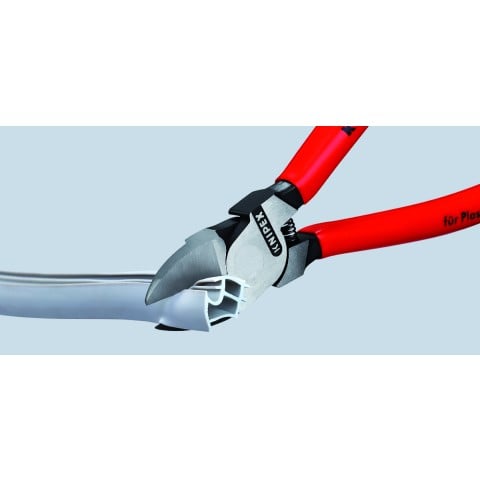 72 01 180

Diagonal Cutter for plastics


Cutting face flush
For nearly flush cutting of moulded plastic components from sprues
Cuts soft materials such as lead in a flush cut
With opening spring
Vanadium electric steel; forged, oil-hardened
Technical attributes
Diagonal cutters for plastic and other soft materials
Why special diagonal cutters are needed for plastic
The cutting edges of classic diagonal cutters are ground to produce a wedge-shaped cut towards the centre of the cut product. Wedge-shaped cuts as on wire would be a hindrance when deburring plastic, however. A flush cut that is as smooth as possible is needed when separating moulded parts and sprues, in order to create the least finishing work when deburring.
Diagonal cutters used here must not have any bevel towards the component, in order to create a straight cut surface. The Knipex 72 01 180 diagonal cutters have been specially developed for plastics and other soft materials. Their cutting edges are surface ground.
For flush deburring after injection moulding
The Knipex 72 01 180 is used in plastics production when, for example, larger plastic moulded parts need to be mechanically separated from sprue after demoulding. The surface ground cutting faces permit the clean, flush disconnection of extruded plastic injection moulds and sprues or sprue residues. The sprue is cut off directly on the moulded part, because the cutting edge runs parallel to the component.
Compact and stable – with opening spring to reduce strain for the user
In many cases, work steps in plastic injection moulding and other production processes repeat. Anyone who frequently separates sprues from moulded parts therefore appreciates the opening spring on the Knipex 72 01 180. At 180 mm long and weighing 193 g, the Knipex diagonal cutters for plastics are ideal for workstations in industrial production. They are designed for many years of hard use. We forge the 72 01 180 diagonal cutters from vanadium electric steel. We give them their high strength by heating and then quenching them in oil.
Brief overview
Diagonal cutters for plastic and soft materials such as lead
Knipex diagonal cutters for plastic and other soft materials
One can see how good diagonal cutters are by the cut. This also applies when cutting plastic.
In addition to the quality forged parts made from vanadium electric steel, the most important quality criteria at Knipex include the accurate machining of the tool steel manufactured in Germany.
The material is cut flush using the surface ground cutting edges. Thanks to their long tool life, Knipex diagonal cutters for plastic continuously deliver accurate cuts.