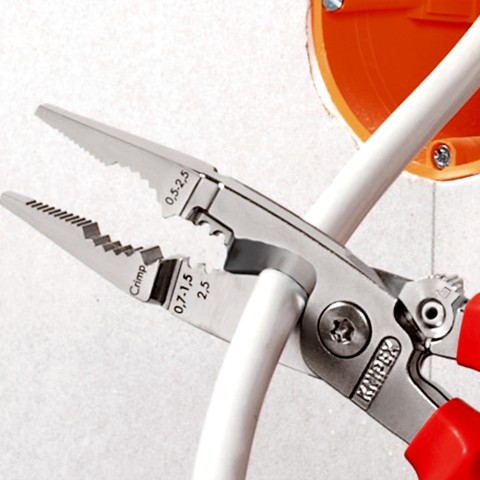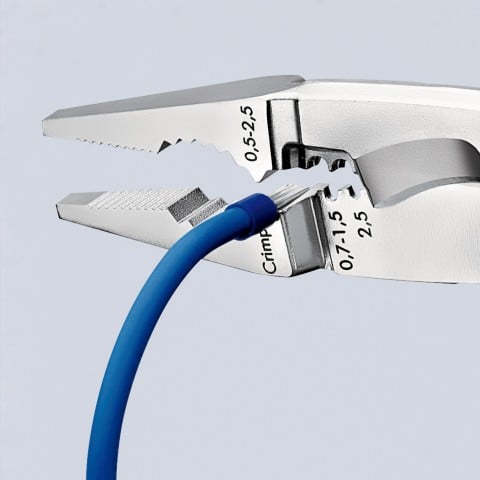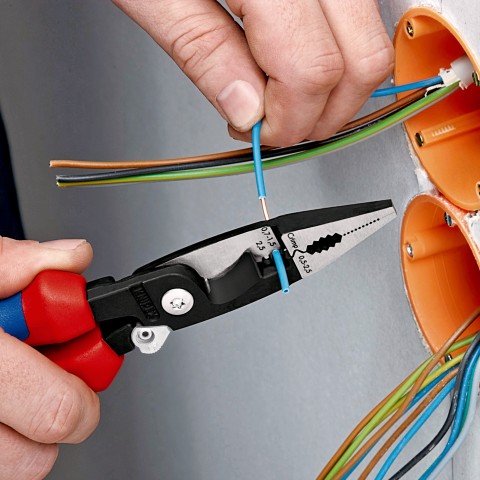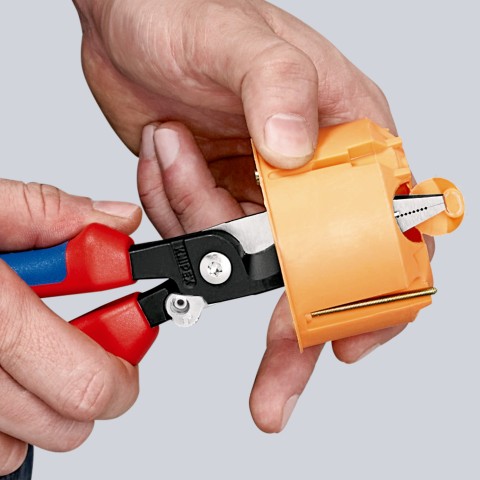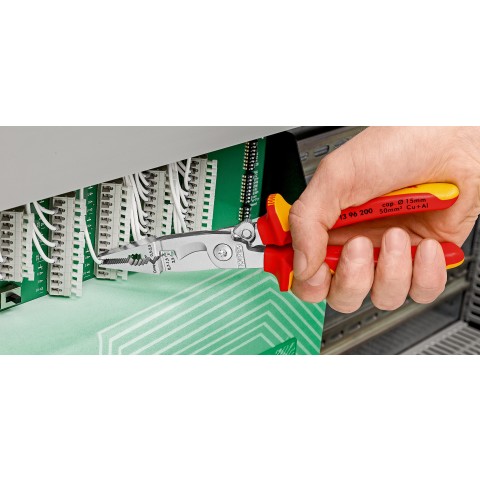 13 82 200

Pliers for Electrical Installation
6 functions in one pair of pliers
Multifunctional pliers for the electrical installation; to grip flat and round material, for bending, deburring, cutting cable, stripping and crimping wire ferrules
Smooth surfaces near the tips grip single cores without damaging them; serrated gripping surfaces and pipe grip for gripping flat and round material
Clear-cut outside edge on the gripping surfaces for working on flush-mounted junction boxes and deburring feed-through holes
Stripping holes for conductors of 0.75 - 1.5 mm² and 2.5 mm²
Crimping die for wire ferrules 0.5 - 2.5 mm²
Cable shears with (induction-hardened) precision cutting edges for copper and aluminium cables up to 5 x 2.5 mm² / Ø 15 mm
Slim dimensions for easy access
Bolted joint: precise, zero backlash operation of pliers
High-grade special tool steel, forged, multi stage oil-hardened
Technical attributes
with multi-component grips
Cutting capacity copper cable, multiple-stranded
Cutting capacity copper cable, multiple-stranded
Stripping capacity for cross-sections
Capacity in square millimetres
The multifunctional tool for electricians
For cutting cable, for wire stripping, deburring, bending, gripping and crimping
Due to their many functions, these universal pliers mean there is no need to constantly change tools. Just one tool is adequate for the most important, recurring work steps in electrical installation.
Good ideas practically built in
The electrical installation pliers save time, space and weight. At 200 mm long, they fit in any tool bag and with a weight of just 280 g they are light weight – especially compared to a number of individual tools.
Versatile tool for professional users
The tips of the gripping surface of the installation pliers are smooth, enabling single conductors to be held and positioned without damaging them. Profiled gripping surfaces and a pipe grip are provided for flat and round materials. The induction hardened precision cutting edges produce clean cut Cu and Al cables up to Ø 15 mm. Thanks to their non-slip multi-component grips, the installation pliers are safe and comfortable to use.
Brief overview
Compact multifunctional tool
Six functions combined in one tool
Wire stripping capacities for single conductors: 0.75 – 1.5 mm² and 2.5 mm²
Crimp die for end sleeves (ferrules) 0.5 – 2.5 mm²
Handles with multi-component grips
Forged from high grade special tool steel, oil hardened in multiple stages
Knipex quality and engineering services – Made in Germany
Two aspects are vital to the quality of a tool: the performance and durability. At Knipex, pliers are developed from the point of view of the user, and focus on their direct application. Knipex electrical installation pliers replace several tools. Uses are equally diverse – and last for several years of tough work. We forge our tools from quality materials, machine them with high precision on modern machinery and harden them carefully with multiple stage heat treatment. Every pair of Knipex pliers represents more than 130 years of specialist know-how.
Universal crimp die for end sleeves (ferrules) from 0.5 to 2.5 mm².
Cable shears for cutting copper cable.
The pliers for electrical installation combine six functions in one pair of pliers.
Wire stripping holes for conductors of between 0.75 to 1.5 and 2.5 mm².