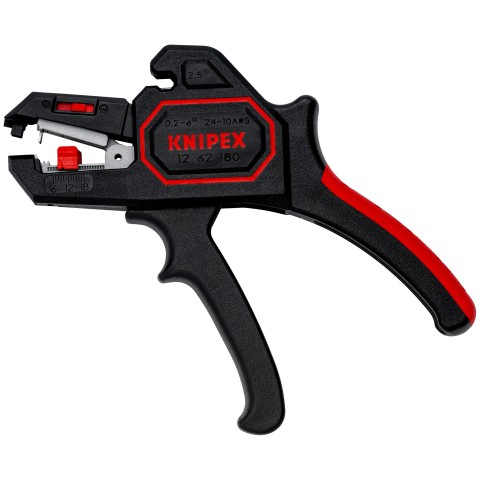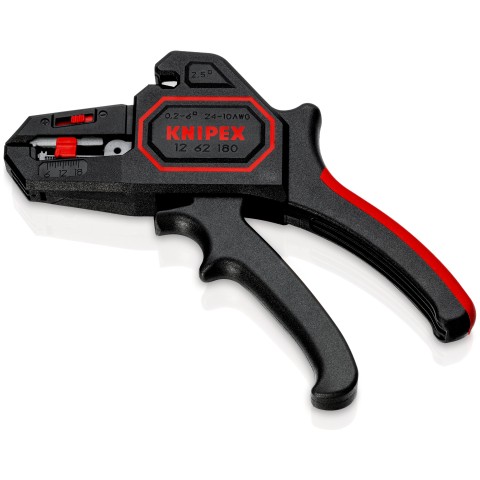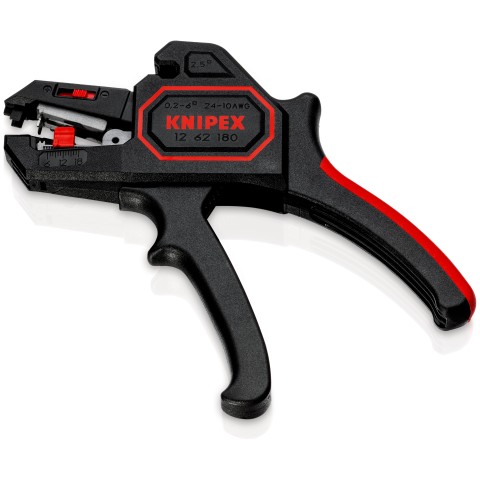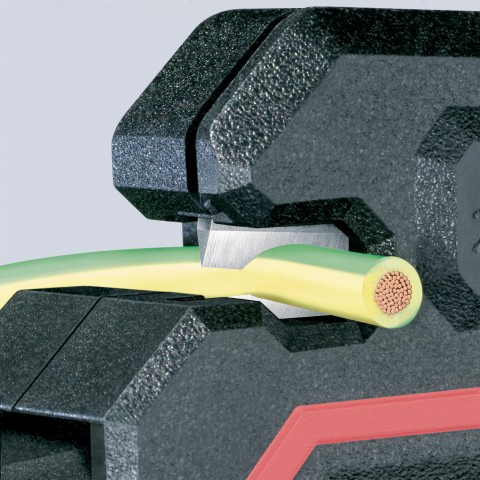 12 62 180

Automatic Insulation Stripper

Strips cables with standard materials without any need for manual adjustment
Fine adjustable zero correction of the blade setting to special material requirements, e.g. due to large temperature differences
Compact, handy and lightweight tool for common cable cross-sections and insulating materials
For single, multiple and fine stranded cables of 0.2 up to 6 mm² with standard insulation
Narrow head style for use in confined areas
With wire cutter for copper and aluminium wires up to 2.5 mm²
With adjustable length stop from 6.0 - 18.0 mm for constant stripping lengths
Body: glass fibre reinforced plastic
Blades: special tool steel, oil-hardened, interchangeable
Technical attributes
Stripping capacities in square millimetres
Are light in the hand, and simple to use.
The lightweight with tangible benefits
The Knipex 12 62 180 is a good choice if you occasionally need to strip cable, e.g. when installing lighting, during model making, work on a camper van or when installing new sockets. It greatly reduces strain, both for DIY enthusiasts and for professional users. Firstly, there is no need to adjust to different cable cross-sections because the pliers do this automatically. Secondly, thanks to the slim head shape, it is also possible to strip the wire in poorly accessible areas, such as in junction boxes. It has a wire cutter for shortening cables and cutting Cu and Al conductors up to 2.5 mm², so users need one less tool.
Convenient wire stripping of single layer standard insulation
The cable to be stripped is inserted in the pliers from the front and pushed up to the individually adjustable length stop. After this, the user only needs to press the handle. The wire stripping process takes place automatically. The insulation is only cut as deeply as needed for removal of the insulation layer. When the Knipex 12 62 180 is used correctly, it protects solid, multicore and finely stranded conductors from damage.
Saves time and effort – increases safety
Anyone looking for a convenient substitute for simple manual standard wire strippers or for the makeshift wire stripping diagonal cutters famous in electrician circles is well-served by the Knipex 12 62 180 automatic wire strippers. There is no need to adapt manual force to the insulation thickness or strip the insulation by hand. With these pliers, wire can be stripped conveniently, quickly and above all safely. Due to the automatic conductor protection, you are able to produce VDE-compliant wire stripping with just two hand movements: insert cable, press the wire strippers.
Brief overview
Self-adjusting wire strippers for solid, multicore and finely stranded conductors
Wire strippers from Knipex: built for high benefits and long service life
Knipex has a wide range of special products for the electronics and electrical industries. During wire stripping, wire strippers from Knipex protect the conductor in the cable and offer utmost comfort for the user. The great benefits of the tools and safe, comfortable use in everyday work are the results of decades of experience building tools, constant product development and the commitment by Knipex towards high quality standards. Pliers from Knipex are built for many years of use in a professional environment.
Accurate wire stripping of 0.2 – 6.0 mm².