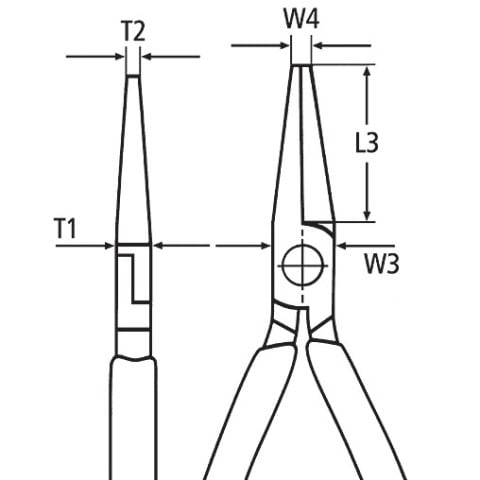 25 05 160

Snipe Nose Side Cutting Pliers

(Radio Pliers)
Suitable for finer gripping and cutting work
Half-round, long, tapered jaws
Knurled gripping surfaces
With cutting edges for soft, medium-hard and hard wire
Cutting edges additionally induction-hardened, cutting edge hardness approx. 61 HRC
Straight jaws
Vanadium electric steel, forged, multi stage oil-hardened
Technical attributes
with multi-component grips
Cutting capacities medium hard wire (diameter)
Cutting capacities hard wire (diameter)
Jaw thickness (joint) (T1)
Needle nose pliers with cutting edge for electricians, fitters and plumbers
Pliers for gripping, positioning and cutting
The Knipex 25 05 160 which is pointed at the front combines several qualities. The needle nose pliers are suitable on the one hand for the fine, measured gripping and holding of components, and on the other hand for the powerful cutting of cable and wire. The shape of the cutting edges produces an efficient bite type cut.
Thanks to additional induction hardening of the blades, the Knipex 25 05 160 (cutting edge hardness approx. 61 HRC) can be used for the powerful cutting of cable, soft, medium-hard (cutting capacity Ø 2.5 mm) and even hard wire (cutting capacity Ø 1.6 mm).
Stable needle nose pliers, also when twisting and during powerful cutting
The precision tips of the Knipex 25 05 160 are elastic and therefore remain stable when twisted. Users can easily find the optimal amount of manual force to use. Larger components can be held firmly, while smaller components can be gripped gently using the right amount of force. Little effort is required when cutting because the cutting edges near the joint of the pliers are in a favourable position for transmitting manual force to the material to be cut.
Work well even in confined spaces
These needle nose pliers are very suitable for working in confined spaces, because they are pointed at the front. Components and wire can also be gripped and held where space is tight, which is an advantage in house installations and repairs, for example. The Knipex 25 05 160 has quality chrome plating. The chrome layer offers good corrosion resistance: useful when the pliers are also used outside or are kept permanently in a service vehicle where temperature changes can cause condensation on the tool.
Brief overview
Needle nose pliers (radio pliers) for finer gripping and cutting work
Pointed flat rounded jaws
Serrated gripping surfaces
Cutting edges for soft, medium-hard and hard wire; cutting capacity of medium-hard wire 2.5 Ø mm, cutting capacity of hard wire 1.6 Ø mm
Forged from vanadium electric steel and oil hardened
Cutting edges additionally induction hardened; cutting edge hardness approx. 61 HRC
Handles with multi-component grips
Knipex quality – the needle nose pliers
The needle nose pliers from Knipex are a tool for professional users, particularly electricians. Those who regularly use tools professionally expect a quality that permits simple and safe work as well as a tool that lasts for many years of hard use.
We therefore forge our tools from quality materials, machine them with great precision on up-to-date tool machinery, and harden them carefully using repeated heat treatment.
Every pair of Knipex pliers represents more than 130 years of specialist know-how.