KNIPEX Christmas Set
Giving can be so easy! 
This year, the KNIPEX Cobra® 125 and the Folding Knife for electricians in one set will ensure smiling faces around the Christmas tree 
This year, the KNIPEX Christmas set (00 20 72 S6) consists of the small 125-millimetre long and fully functional High-Tech Water Pump Pliers KNIPEX Cobra® (87 01 125), also called Mini-Cobra, and the Folding knife for electricians (16 20 50 SB), a high-quality all-purpose knife for everyday use. Both tools are extremely versatile multifunctional tools of the highest quality and are perfect everyday companions. The set comes in a high-quality belt pouch that can easily find a place in a drawer, toolbox, car or on the belt of the happy new owner.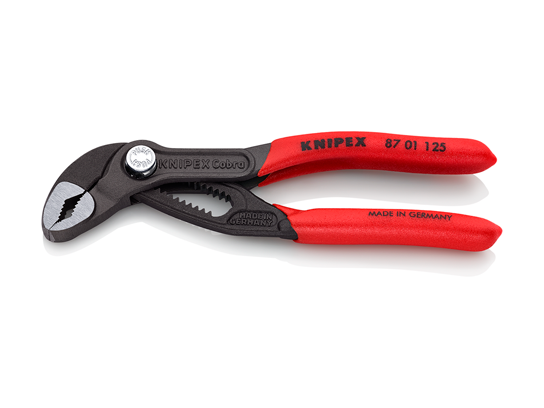 With the small KNIPEX Cobra®, workpieces up to 27 millimetres can be gripped without slipping, due to the fine adjustment. This tool has 13 adjustment positions. Like all products in the KNIPEX Cobra® family, the Mini-Cobra can self-lock to pipes and nuts, so it doesn't slip off the workpiece and all work can be carried out with significantly less effort. The teeth, which are offset against the direction of rotation, enable this effect for perfect, efficient gripping, holding, pressing and bending. There is no need to fiddle around to get the correct opening width – simply place the upper half of the jaw onto the workpiece and slide the lower jaw in position to fix the pliers in place. The Mini-Cobra fits in every pocket and due to its short length, is also a high-quality versatile tool for do-it-yourself enthusiasts.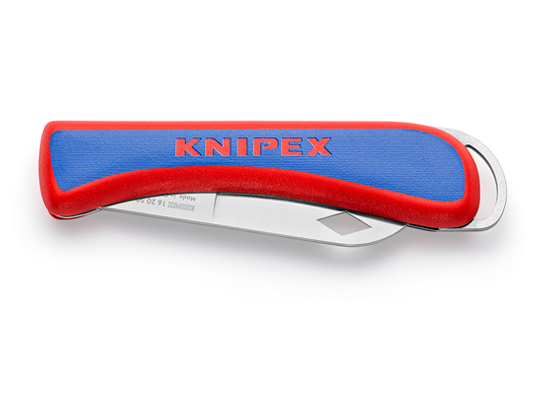 The second multifunctional wonder in the Christmas Set 2021, the Folding Knife for electricians from KNIPEX, is equipped with a very sharp blade of the highest quality – Made in Solingen. This durable and robust knife is ideal to always have with you for any handicraft situations that might arise. The handle made of sturdy, impact-resistant plastic and the ergonomic handle shape ensure that it is comfortable to hold and guide. The sturdy blade of the 120-millimetre long knife is made of stainless steel. The tether attachment point at the end of the knife makes this tool suitable for KNIPEX Tethered Tools. 
The set, packed in limited edition Christmas packaging, is delivered in a high-quality belt pouch that easily finds a place in the drawer, toolbox, car or on the belt of the happy new owner. 
The belt pouch made of hard-wearing polyester fabric can of course also be used for other purposes. It is suitable for two pliers up to 150 millimetres in length and equipped with a hook-and-loop fastener, a belt loop and an elastic holder for flashlights, pens or similar.
The limited KNIPEX Christmas Set is now available in stores. 
The KNIPEX Advent Calendar
Open the doors and win with a bit of luck!
Exciting news from KNIPEX
Subscribe to the free newsletter now