The power giant in pocket size
KNIPEX CoBolt® S - NEW: with recess for round materials
The KNIPEX CoBolt® S Bolt Cutter with recess for round materials
KNIPEX CoBolt® S - NEW: with recess
The handy and powerful bolt cutter with 25-fold manual force reinforcement cuts even the hardest piano wire thanks to precision cutting and efficient joint
>Heavy-duty cutting edge with recess slices through the hardest round materials in only one cutting action 
> Extremely high cutting performance in a convenient length of 160 mm 
> Small, slim head for excellent accessibility 
> Compact and powerful: cuts bolts, nails, rivets etc. up to Ø 4.8 mm, cutting edge hardness approx. 64 HRC 
New: blades with recess for easier cutting of larger cross-sections thanks to better leverage close to the pivot point
 Ideal for round materials 
KNIPEX CoBolt® with recess (article no. 71 01)
The recess enables round materials to be placed closer to the joint when cutting. The improved leverage makes easy work of cutting through even very hard materials with less effort.
KNIPEX CoBolt® - even without recess
 Ideal for flat materials 
KNIPEX CoBolt® without recess (article no. 71 01)
The cutting edge without the recess provides optimum cutting for flat materials. The lasered cutting edge also keeps the cutting material from slipping.
The KNIPEX CoBolt® S in action
Bolt cutters from KNIPEX
The KNIPEX CoBolt® Family
Tiny power packs for the toughest materials
Most bolt cutters derive their brutal cutting power mainly from their large size. Much unlike the "pocket bolt cutters" of the CoBolt® family: They are handy and get the job done! In compact sizes of 160, 200 or 250 millimetres, they cut through even the hardest piano wires, thanks to precision cutting edges and efficient joints.
Ergonomic, agile, light and high-quality
Thanks to their slim design, the CoBolt® tools only require a small handle width to achieve their high cutting power. The small, slim head also provides good accessibility even in tight spaces. The low weight – from 200 grams – enables long periods of work without fatigue. The CoBolt® can even be carried in jacket and trouser pockets. The small bolt cutter is forged from chrome vanadium heavy-duty steel and is multi-stage oil-hardened.
The practical gripping surface  
can be used to pull wires with a diameter of approximately 1 mm or more. Pulling and cutting in one – no need for a second tool!
Optimum access 
With its slim head, the KNIPEX CoBolt® cuts where other bolt cutters will not even come close
Optionally available with tether attachment point  
The eyelet allows the tool to be easily tethered and removed. The tool is reliably secured against falling.
Two-component grips  
are particularly ergonomic. They are particularly recommended for frequent use where great manual force is required – enabling effortless work.
Differences within the family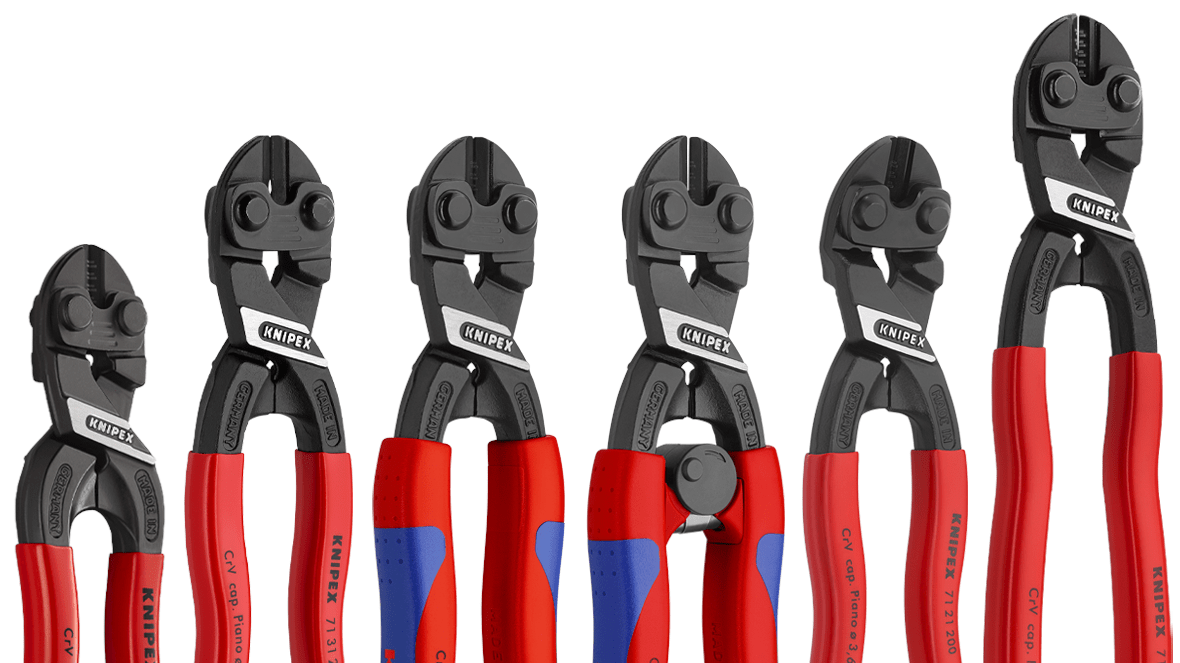 Follow us on Instagram
KNIPEX CoBolt® @knipex_official
Exciting news from KNIPEX
Subscribe to the free KNIPEX Newsletter now!