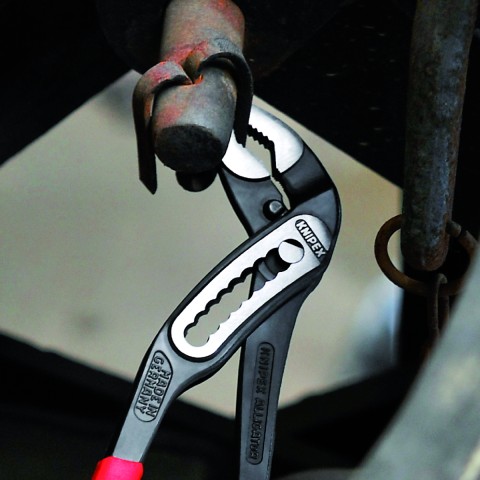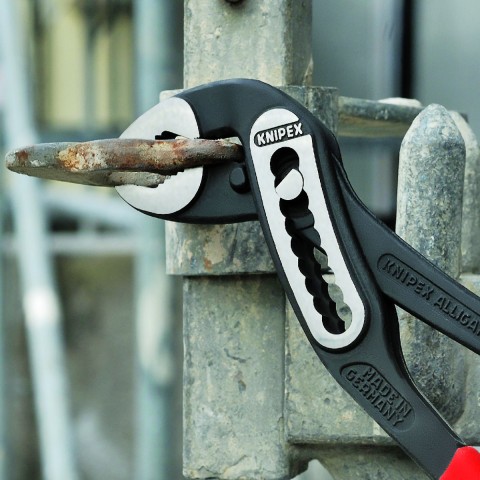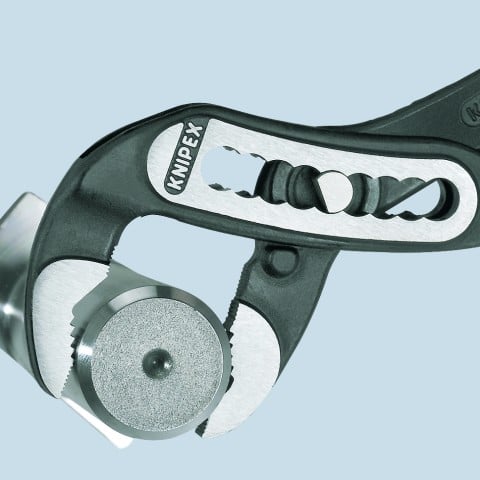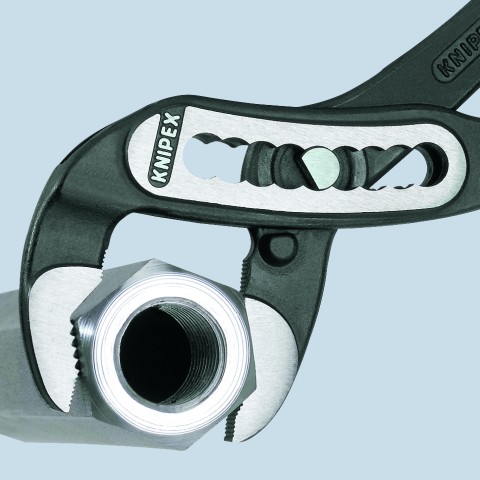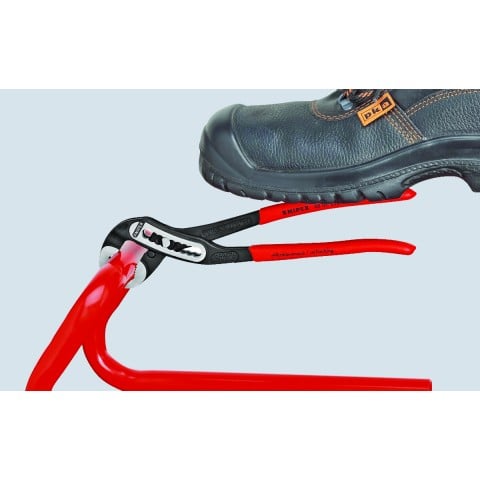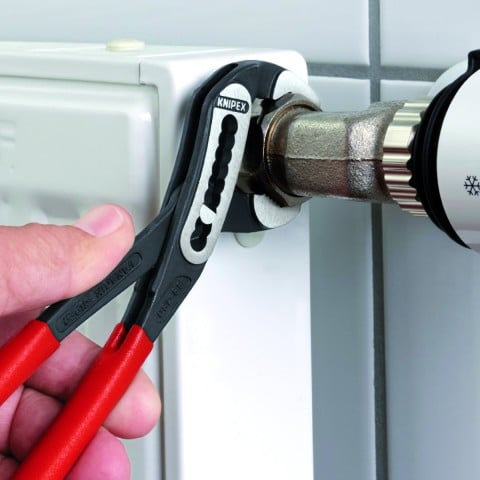 88 05 250

KNIPEX Alligator®

Water Pump Pliers
Good access to the workpiece due to slim size of head and joint area
More output and comfort compared to conventional water pump pliers of the same length: 9-notch adjustment positioning for 30 % more gripping capacity
With slim multi-component grips without collar for better handling and easier transport
Self-locking on pipes and nuts: no slipping on the workpiece and low handforce required
Gripping surfaces with special hardened teeth, teeth hardness approx. 61 HRC: high wear resistance and stable gripping
Box-joint design for high stability due to double guide
Robust construction, insensitive to dirt; particularly suitable for outdoor work
Pinch guard prevents operators' fingers being pinched
Chrome vanadium electric steel, forged, multi stage oil-hardened
Technical attributes
with slim multi-component grips
Capacity for pipes, inches (diameter)
Capacities for pipes (diameter)
Energy-saving, tough and slim water pump pliers
Full torque on pipes and nuts thanks to self-locking effect
After gripping into the work piece, the Knipex Alligator holds onto pipes and nuts by itself. This self-locking effect is possible thanks to the special jaw geometry developed by Knipex. The user does not need to press the handles together, but can convert all energy directly into torque. This feature pays off in particular when loosening bolted connections that have become stuck.
Compact design – big gripping capacity
Plumbing and heating work is often performed in confined spaces. The arched adjustment slot and slim head shape of the Knipex Alligator are an advantage here. As compact as these pliers are, the possible grip widths are surprisingly large due to the 9-step locking adjustment: pipes up to 50 mm (2 inches) and nuts up to 46 mm, which is 30 % more than with conventional water pump pliers of the same size.
Stable and wear-resistant – thanks to the chrome plating also when used outside
The Knipex Alligator with its box joint design and double guide offers very high stability for professional use. The teeth on the gripping surfaces have been induction hardened to approx. 61 HRC. This guarantees a very long tool life with an ever "biting" hold on the component. The Knipex Alligator is sturdily built, easy to clean and thus an ideal tool for working outdoors. In the 88 05 250 version, the Knipex Alligator is chrome-plated, giving the pliers ideal protection against corrosion. The chrome plating is not only an advantage when used for plumbing, such as when coming into contact with mains water. It is also useful when the pliers are kept in the vehicle of the craftsman, because the chrome plating also protects against rust caused by condensation due to changing temperatures.
Brief overview
Energy-saving water pump pliers for a secure grip
Self-locking effect on pipes and nuts thanks to special jaw geometry
Large grip width (up to 2 inches / 50 mm and wrench opening 46 mm) with low weight (344 g)
Gripping teeth induction hardened to approx. 61 HRC for a permanent, secure hold
High stability thanks to the box joint design
Protection from pinching due to forged closing limiter
With slim multi-component grips
Made from forged chrome vanadium electric steel
Chrome-plated for the best rust protection
Knipex Alligator: several manufacturing steps for high tool quality
We forge the Knipex Alligator from chrome vanadium steel and use a multiple stage hardening process to give it the ideal balance between hardness and toughness. This makes it extremely durable. To achieve a lasting secure "bite" on the work component, we use high-frequency current to bring the gripping teeth to a hardness of approx. 61 HRC.
Professional users expect a tool quality that will last for several years of hard use. We therefore develop and manufacture our pliers for the most demanding users imaginable: for craftsmen. Every pair of pliers from Knipex is manufactured to the highest standards using the best materials. A purchase for many years of safe, reliable work.
Chrome-plated surface for better rust protection
Grips self-locking round components with a diameter of up to 42 mm
Due to special jaw geometry, holds firmly with self-locking onto the component even under heavy load
High gripping capacity: grips self-locking nuts and screws up to a diameter of 36 mm