Off it goes!
The KNIPEX PreciStrip16 quickly and precisely strips fine, flexible and solid cables
Innovation 2020
KNIPEX PreciStrip16
Automatically strips insulation – and thanks to additional zero correction, it also grips where automatic devices would otherwise fail
The KNIPEX PreciStrip16 strips fine, flexible and solid cables quickly and precisely. The capacity range extends from 0.08 to 16 mm². The pliers can be readily adjusted with a dial for special materials or temperature requirements. Precise stripping of insulation is ensured through the parabolic stripping blades. Semi-circular grooved metal holding clamps ensure perfect grip.
 1  Large capacity range: simple, precise stripping and cutting of fine-stranded wires and solid round cables from 0.08 to 16 mm²
 2  Excellent grip: thanks to semi-circular grooved metal holding clamps and accurate cutting via the parabolic stripping blade
 3  Fine adjustment: precise adjustment of the blade for special materials or temperature requirements
 Versatile
With a cable cutter for multi-stranded cables from 0.08 to 16 mm², solid cables up to 6 mm²
 Adjustable length stop
For consistently accurate work
 Comfortable handling
Through ergonomic dual-component handle
 Extremely practical
- With a tether attachment point, suitable for KNIPEX Tethered Tools-accessories
- Labelling field for personalisation
- Easily replaceable blade cassette
 i  Advantage of parabolic blades
The parabolic blade pair (visible at the top behind the upper holding clamp in the top right-hand corner of the illustration) fully enclose and strip the insulation, making it suitable for many flexible materials.
Stripping with the PreciStrip16
Learn more
The advantages of the PreciStrip16
All features in detail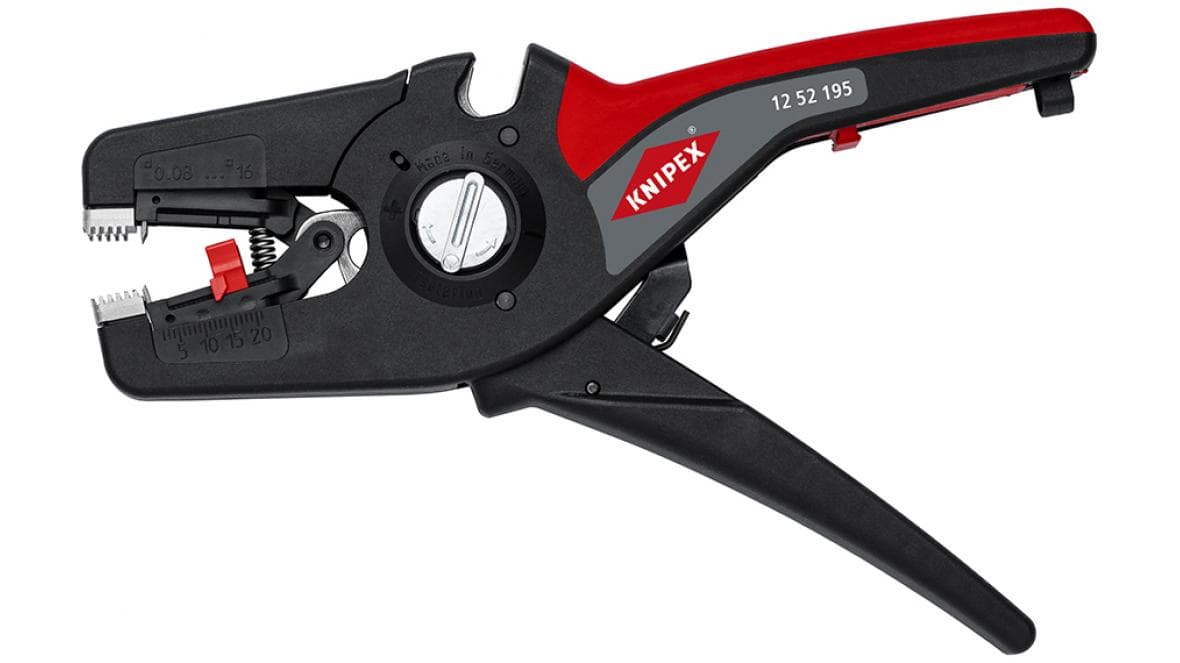 1  Extremely simple: Insert the cable up to the adjustable length stop and the robust holding clamps securely grip the cable.
 2  Cut and remove: The parabolic blades cut the insulation without damaging the conductor. The mechanism of the high-tech PreciStrip16 insulation stripper automatically removes the cut material.
 3  Clean cut and you're done: The KNIPEX PreciStrip16 removes the insulation cleanly with a single press of the hand.
Practical workshop tips
The advantages of the PreciStrip16
Follow us on Instagram
KNIPEX Abisolierwerkzeuge @knipex_official