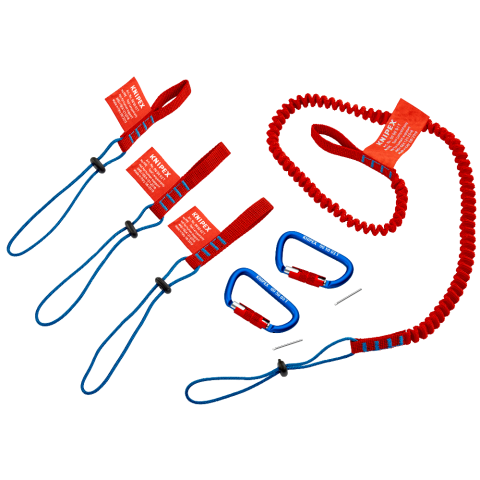 00 50 04 T BK

Tethering System Set

1 x 00 50 01 T BK, 3 x 00 50 02 T BK, 2 x 00 50 03 T BK
The tool protection system with diverse applications, ranging from building construction to industrial climbing
Reliably prevents the tool falling down, and can protect against serious injuries, damage to property or loss
Set with lanyard, adapter straps and carabiners
The combination of the separate parts produces a versatile system with a large number of attachment options
Attractive sales packaging with Euro standard perforation
Lanyard extends to length of around 10 inches (260 mm). Rig to avoid contact with objects below.
Read all warnings and instructions on product and packaging carefully prior to use
No PPE (personal protective equipment): not suitable for personal safety!
Only for latching tools from the KNIPEX Tethered Tools range, connected and combined in accordance with tethering system instructions
Do not use around moving or rotating equipment
Will not support human weight
Inspect for wear before each use. Do not use if evidence of wear.
Technical attributes