Choose your language |  Wählen Sie Ihre Sprache | Choisissez votre langue | scegli la tua lingua | Elige tu idioma
The smallest water pump pliers in the world
KNIPEX Cobra® XS with a length of only 100 mm
Innovation 2020
KNIPEX Cobra® XS
With a length of only 100 mm, it is the smallest fully functional set of water pump pliers in the world and, thanks to its compact design, ensures accessibility even in the tightest of spaces.
 The slim head provides a firm grip even in tight spaces
 Work with only one hand:  open, slide,fit!
 Gripping capacity  Ø 28 mm, width across flats up to 24 mm – at only 100 mm length
 Self-locking and durable  – all part of genuine KNIPEX water pump pliers
 Versatile  - the KNIPEX Cobra® XS grips nuts up to 24 mm and other workpieces as large as Ø 28 mm
 Naked truth:  The grips are not coated to keep them as slim as possible. To ensure good grip, they are texturised on the outside
Anything but a toy!
See for yourself
Small, handy and anything but a toy!
The Cobra® XS extends the KNIPEX Cobra® family with a compact new member. It is a fully functional high-tech water pump plier, which proves its size especially in tight spaces. By means of fine adjustment directly on the workpiece it offers eleven setting positions, which grip nuts up to 24 mm diameter and other workpieces even up to 28 mm diameter - and all this with a length of only 100 millimetres. Due to its small size, the Cobra® XS can be easily operated with just one hand.
The Cobra® XS is of course - like all members of the KNIPEX Cobra® family - self-clamping on pipes and nuts: This prevents slipping on the workpiece and work such as gripping, holding, pressing and bending is much more effortless. 
Product Manager Michael Juretko presents the small miracle on KNIPEX Workshop TV.
The KNIPEX Cobra® family is growing
In every size: perfect tightening, gripping, holding, pressing and bending with the ingenious self-locking effect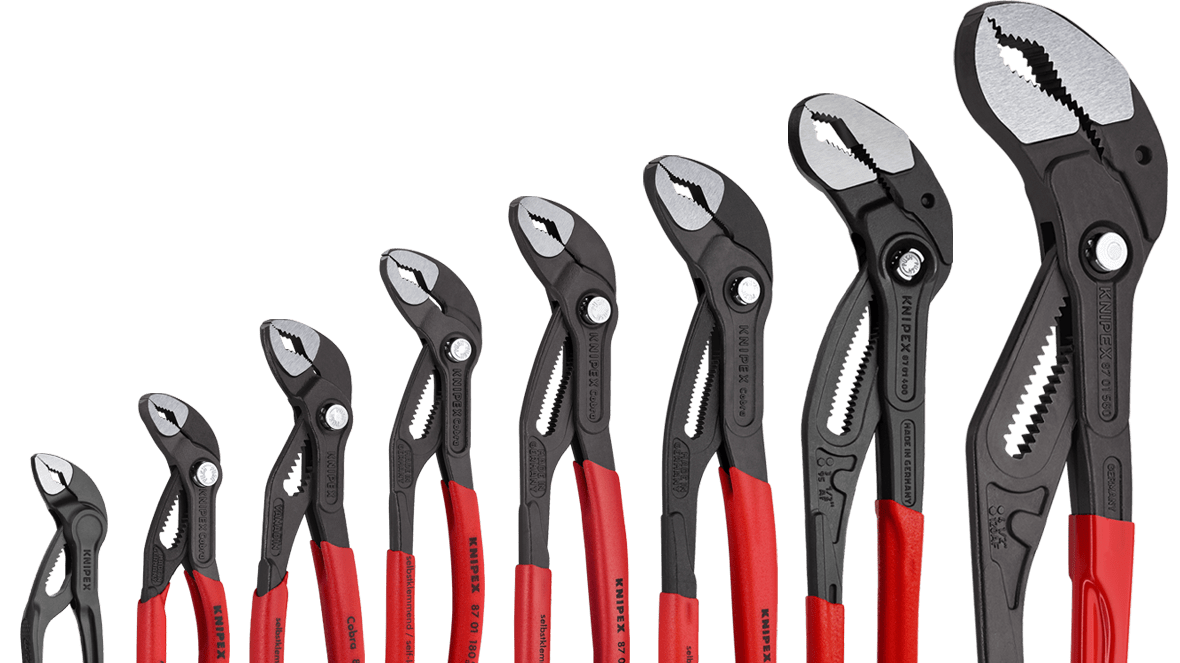 The high-tech water pump pliers: quick access, fine adjustment
For pipes, nuts, sleeves, for various types of workpieces: The benefits of the KNIPEX Cobra® are palpable when working: These water pump pliers are light and strong, can be adjusted on the workpiece quickly at the touch of a button and are self-locking on pipes and nuts. With its slim multi-component grips without a collar, for example, the KNIPEX Cobra® 87 02 250 can be transported particularly easily and can also be used in tight spaces. You can apply the KNIPEX Cobra® quickly and precisely in a single action. The spring-loaded joint pin engages securely without unintentional shifting. Thanks to the fine adjustment, the Cobra® can be optimally adapted to different workpiece sizes. This fine adjustment also ensures that the distance between the handles remains easy to grasp at any opening width.
KNIPEX Cobra®: We make every effort to achieve maximum tool quality
The bodies of the KNIPEX Cobra® pliers are made of forged chrome vanadium steel and also feature an ideal balance between hardness and toughness by means of a multi-stage hardening process. For a permanently secure "bite" on the workpiece, we also harden the gripping teeth to approx. 61 HRC with high-frequency current. Our efforts in production pay off: Every KNIPEX Cobra® is extremely tough.
With good reason: We develop and manufacture our pliers for the most demanding users imaginable – for tradesmen. As a professional user, you expect and deserve perfect tool quality for many years of tough use. That's why KNIPEX manufactures every pair of pliers to the highest standards and with the best materials, making them a purchase for many years – for tough work during installation jobs, on construction sites, in production and in the workshop.
 Comfortable and quick  - fine adjustment via push button
 Precise  - quick and exact adjustment directly on the workpiece
 Strong  - self-locking effect thanks to special jaw geometry: secure hold on the workpiece even under high loads
 Versatile  - grips flat, round and angular workpieces of different sizes with a self-locking mechanism
The Cobra® family in application
Follow us on Instagram
The KNIPEX Cobra® @knipex_uk
Exciting news from KNIPEX
Subscribe to the free KNIPEX Newsletter now!