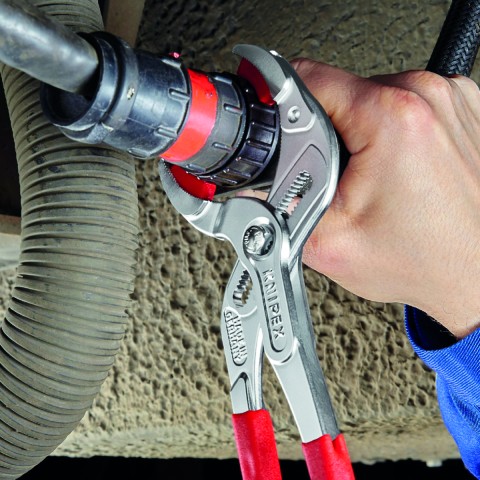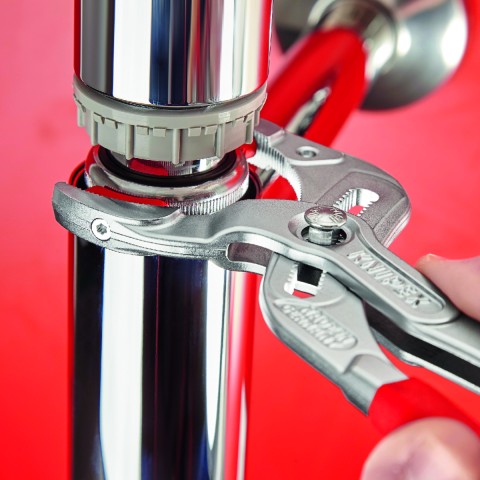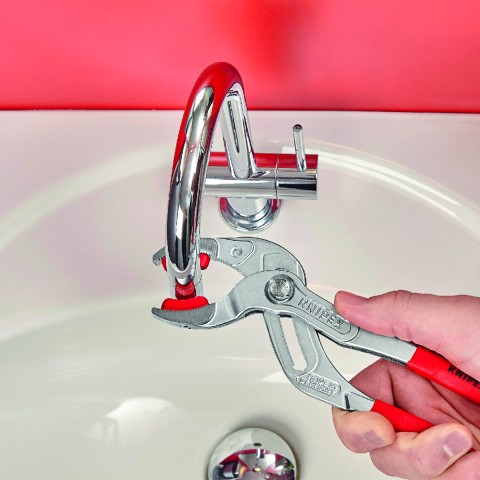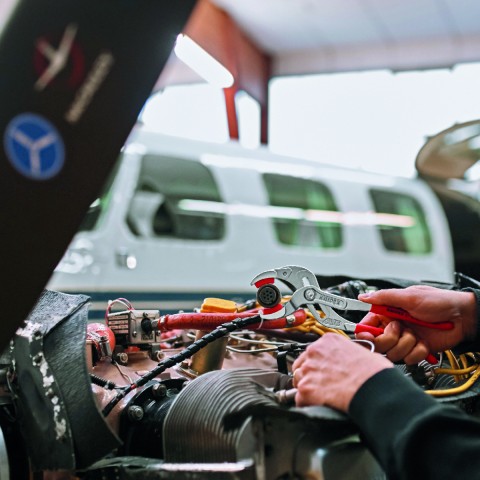 81 13 250

Siphon and Connector Pliers
Fine adjustment for ideal adjustment to diverse diameters up to 75 mm
For connectors, oil filters, plastic pipes and siphons
Ideal for tightening and loosening siphon screw connections, plastic pipe fittings and round union nuts
With exchangeable plastic jaws for sensitive surfaces; up to Ø 75 mm
For connectors and couplings with screw connection, such as Cannon circular connectors
For gentle loosening of hoses on nozzles and filter cartridges
Optimum adhesion on dirt-, oil- and fatfree surfaces
25-way adjustable box joint
Ergonomic handle geometry
Changeable gripping jaws with two-component plastic insert with a hard carrier component (red) and a soft adhesive component (blue)
Chrome vanadium electric steel, forged, oil-hardened
Technical attributes
with non-slip plastic coating
Working Capacity (diameter)
Large clamping range – several possible applications
For odour trap screw joints, connectors and hoses that have become stuck
The syphon and connector pliers from Knipex are suitable for a range of applications requiring large grip widths and gentle changes of grip that will not damage components. When odour traps need to be opened on kitchen and bathroom fittings, they can be gripped and twisted powerfully in a measured way using the syphon and connector pliers from Knipex. The pliers can unscrew and tighten screw joints on plastic pipes and sensitive connectors, and are also suitable for detaching hoses that have become stuck to supports – e.g. coolant hoses.
Surface contour adapted to the pipe protects screw joints
The gripping jaws has been designed for large pipe diameters. As a result of their round shape, they are used with union nuts on connectors and to screw joints of pipes conveying liquids and gas. Such connectors establish an electrical connection that is weather and vibration resistant. The replaceable plastic inserts offer particularly good protection for sensitive surfaces.
Versatile and tough: 25 possible settings and box joint design
With the 25 possible settings, which can be conveniently set to the desired grip width using the fine adjustment push button, the Knipex syphon and connector pliers have a large gripping range of Ø 10-75 mm. Thanks to the box joint design and manufacture from oil-hardened chrome vanadium electric steel, the pliers are very tough. The high quality chrome plating provides good corrosion resistance.
Brief overview
Powerful tightening and loosening of odour traps, plastic pipes and connectors without damaging surfaces
Grip components Ø 10 - 75 mm
Fine adjustment at the press of a button
Handles coated with non-slip plastic
Pliers are chrome-plated; with fixed, replaceable plastic jaws for sensitive surfaces

Siphon and connector pliers from Knipex
Whether special tool or pliers for standard applications: pliers from Knipex are designed for many benefits and long durability. In everyday work, this means: the design delivers the function – the selection of materials and processing guarantee the tool life. The great benefits of the tools and their safe, comfortable use are the results of decades of experience making pliers, continuous development and Knipex's commitment to high quality standards. Pliers from Knipex are built for many years of use in a professional environment.

Plastic jaws for chrome parts
Using the plastic jaws, sensitive chrome parts can be gripped and turned without damaging them.

Replaceable plastic jaws
The plastic jaws can be replaced easily if worn out.

Gentle twisting
Mountings with smaller diameters can also be twisted gently thanks to the plastic jaws.

For odour trap screw joints
The width and shape of the jaw have been designed for tightening and loosening odour trap screw joints.