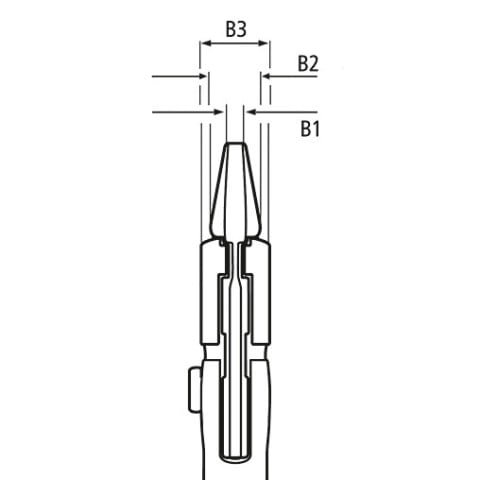 86 02 250

Pliers Wrenches

Pliers and a wrench in a single tool
Replaces the need for sets of metric and imperial spanners
Smooth jaws for damage free installation of plated fittings - working directly on chrome!
With scaling for presetting the width apart from the workpiece
Adjustable tightening tool
Also excellent for gripping, holding, pressing and bending workpieces
Push the button for adjustment on the workpiece
Zero backlash jaw pressure prevents damage to edges of sensitive components
Parallel jaws give a more solid grip; its design allows flexible adjustment of all widths up to the specified maximum size
Reliable catching of the hinge bolt: no unintentional shifting
The ratchet type principle allows quick and easy tightening and release of all bolted connections
Lever transmission greater than 10 : 1 for strong gripping power
Chrome vanadium electric steel, forged, oil-hardened
Technical attributes
with multi-component grips
Jaw thickness (joint) (B2)
Pliers and wrench in a single tool
The Knipex pliers wrench 86 02 250 – for classic applications such as plumbing
The pliers wrench combines many functions: It replaces an entire set of wrenches in metric and imperial sizes, can be adjusted very quickly and directly on the workpiece at the touch of a button, as well as handling all gripping widths up to 52 mm or 2 inches thanks to infinite adjustment. The joint pin engages securely, preventing unintentional shifting. The smooth gripping jaws are parallel to each other and grip the workpiece without damaging edges or sensitive surfaces – work directly on chrome!
Brief overview
Screws, grips, holds, bends and presses
Replaces a full set of wrenches
Grips continuously up to 52 mm or 2 inches
Protects sensitive surfaces
10-fold manual force amplification
Direct working on chrome, brass, etc.
Fast adjustment on the workpiece at the touch of a button
Chrome vanadium heavy-duty steel, oil hardened
The KNIPEX pliers wrench
10-fold amplification of manual force: The excellent mechanics of the pliers wrench increases the applied manual force 10 times. It holds workpieces securely like a vice. Even flat objects can be gripped and processed easily thanks to the high pressing force and the parallel jaws.
Damage-free application
Work on finished or very sensitive surfaces (e.g. fittings in the bathroom) can be carried out damage-free (similar to illustration).
Ratchet principle
The special stroke of the gripping jaws enables time-saving screwing according to the ratchet principle (similar to illustration).
Fast push-button adjustment
Replaces a complete set of wrenches: It can be adjusted directly on the workpiece (up to 40 mm / 1 1/2 inch) using a push button (similar to illustration).
Laser-cut size scale
The redesigned KNIPEX pliers wrench features two laser-cut scales: metric on the front, imperial on the back. This means that you can set the gripping capacity in advance for workpieces that are more difficult to reach (similar to illustration).