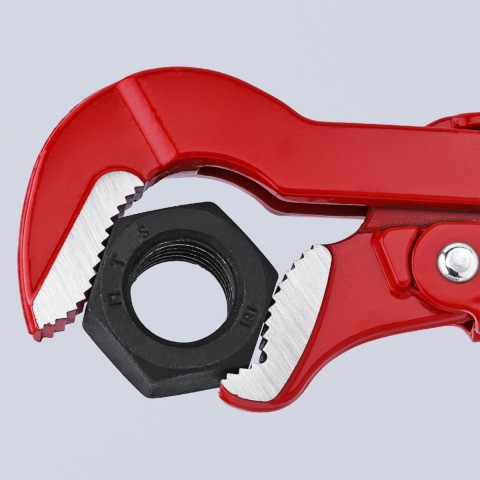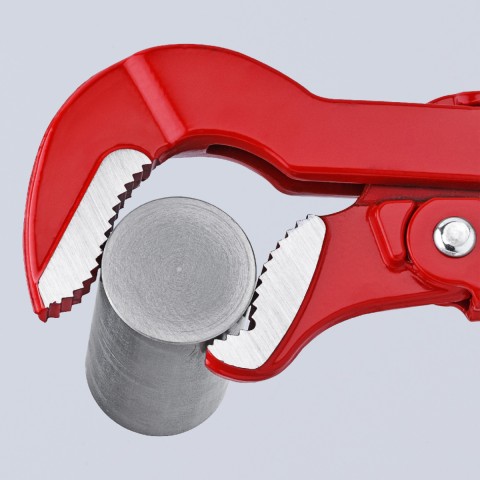 83 30 030

Pipe Wrench S-Type
Slim, S-type jaw
Jaws with offset teeth in opposite direction
Teeth additionally induction-hardened
Three-point contact on pipes, self-locking
I-beam handle design
Captive adjusting nut
Red powder-coated, jaws bright ground
Gripping jaws with specially hardened teeth, hardness approx. 56 HRC
Chrome vanadium electric steel, forged, multi stage oil-hardened
Technical attributes
Capacities for pipes (diameter)
Capacities for pipes (diameter)
Inner diameter, inches
Power tool with marathon qualities for construction and industry
Infinite adjustment, effortless self-locking action, ergonomic and powerful
Knipex corner pipe wrench 83 30 030 is adjusted on the workpiece: twist the knurled screw to open the jaws, place the outer handle over the workpiece, press down the inner handle, turn the knurled screw – done. This corner pipe wrench is infinitely adjustable, so the tool can be adjusted to the user's hand whatever the workpiece dimensions in the capacity range. It takes just a gentle pressure on the handle for the wrench to lock onto the workpiece in the direction of rotation. This very useful self-locking action greatly facilitates the application of high torques with the Knipex corner pipe wrench. When the direction of rotation changes, the wrench is reversed to maintain the self-locking action.
High-efficiency, torsion-resistant corner pipe pliers, weight 4366 g
With the overall length of 680 mm, the Knipex 83 30 030 corner pipe pliers apply enormous gripping force via the pliers head – whether using one hand or two. The S-shape of the jaw of the Knipex 83 30 030 establishes a stable three-point grip on the pipe. The double T-profiled handle gives the pliers very high stability and allows for a firm grip.
Suitable for pipes and threaded fittings. Long-lasting Knipex quality
Knipex 83 30 030 corner pipe pliers are heavy industry tools with lasting qualities. They were designed according to all the rules of physics & ergonomic efficiency. They are forged from high-grade chrome vanadium steel, oil-hardened & powder-coated. Teeth with additional inductive hardening. This makes the corner pipe pliers suitable for long-term heavy duty use.
Brief overview
Robust corner pipe pliers, double-T profile handle, installation
For pipes with max. 120 mm ext. diameter
Chrome vanadium elec. steel, forged, oil-hardened
Also induction-hardened, serrated in the opposite direction to rotation
3-point contact with pipe, self-locking
Captive adjusting nut; red powder-coated pliers, unpainted ground jaws
Length 680mm; Net weight 4366 g
Knipex pipe pliers, S-shaped jaws – long-life strength
Corner pipe pliers from Knipex are real workhorses. They are very robust, easy to maintain and easy to handle. They are much appreciated for their usefulness and durability among members of all trades where threaded fittings are involved. Pipe pliers from Knipex are also frequently used in industry.
Professionals who use tools a lot every day rely on a quality that enables them to work easily and safely and that can withstand many years of tough service. We forge our pliers from high-quality materials, processing them with high precision on modern machine tools and hardening them through careful heat treatment. All pliers from Knipex embody over 130 years of specialist expertise.
For pipes & threaded fittings
Stable three-point contact with pipes and nuts thanks to S shape; teeth are also induction-hardened.
Simply adjust on the workpiece
The captive adjustment screw is used to adjust the pliers to the size of the workpiece.