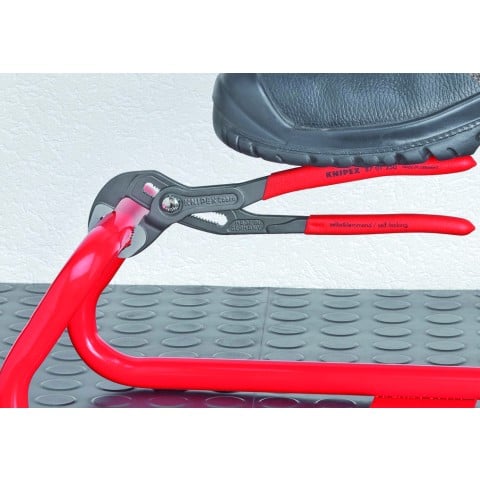 87 03 300

KNIPEX Cobra®

High-Tech Water Pump Pliers
Push the button for adjustment on the workpiece
Fine adjustment for optimum adaptation to different sizes of workpieces and a comfortable handle width
Self-locking on pipes and nuts: no slipping on the workpiece and low handforce required
Gripping surfaces with special hardened teeth, teeth hardness approx. 61 HRC: high wear resistance and stable gripping
Box-joint design for high stability due to double guide
Reliable catching of the hinge bolt: no unintentional shifting
Pinch guard prevents operators' fingers being pinched
Chrome vanadium electric steel, forged, multi stage oil-hardened
Technical attributes
with non-slip plastic coating
Kapazität für Rohre (Zoll)
Capacities for pipes (diameter)
High-tech water pump pliers
Quality for craftsmen – comfort for all users
The Knipex 87 03 300 Cobra with a length of 300 mm is one of the bigger models of water pump pliers from the Knipex Cobra range. With good torque and a grip width of up to 70 mm, they are particularly good for professional users for whom the capacity of the classic 250 mm long Cobra is not sufficient. The benefits of working with these water pump pliers are plain to see: they can be positioned on the component quickly and are self-locking, e.g. on pipes and nuts. With its plastic-coated handles, the Knipex Cobra 87 03 300 sits firmly in the hand. It is ideal for use on pipes up to a diameter of 2 ¾ inches or 70 mm and for nuts with a wrench opening of up to 60 mm. In the chrome-plated version it has particularly good rust protection and is therefore ideal for service technicians who leave the tool in the car, for example. The chrome plating protects against corrosion, e.g. condensation caused by temperature changes.
Grip quickly, adjust finely
For pipes, nuts, sleeves, for various kinds of components: the professional user applies the Knipex Cobra quickly and accurately with just one hand movement. The spring-loaded hinge bolt locks securely into place without adjusting inadvertently. Thanks to the 30-fold fine adjustment, the Knipex Cobra 87 03 300 can be ideally adjusted to different sizes of component. This fine adjustment also ensures that the user is able to find a hand-friendly gripping position for every grip width.
The Knipex Cobra clamps onto the component securely by itself thanks to the jaw geometry developed by Knipex. This means the user can put all energy into the desired movement without pressing the pliers handle together – and thus without energy loss: round components can be turned, bolted connections tightened and released.
Tough and strong
We forge the Knipex Cobra from chrome vanadium steel, and use a multiple stage hardening process to give it the ideal balance between hardness and toughness. This makes it extremely durable. To achieve a lasting secure "bite" on the work component, we use high-frequency current to bring the gripping teeth to a hardness of approx. 61 HRC.
The Knipex Cobra is further stabilised by the box joint design. Unlike pliers with mounted joints, no tilting forces arise when under strain. The handles stabilise each other in the joint.
Brief overview
High-tech water pump pliers
Has self-locking grip on pipes and nuts
Particularly large grip width (up to a wrench opening of 60 mm / pipes up to 2 ¾ inches) with low weight (531 g)
30-fold fine adjustment at the touch of a button for fast adjustment to different sizes of component
For turning, pulling, gripping, holding and screwing
Gripping teeth induction hardened to approx. 61 HRC for secure hold and long service life
Grips pipes, nuts and flat, round and angular components
High level of user comfort due to constant hand-friendly gripping position resulting from fine adjustment
Sits firmly in the hand thanks to non-slip handles
Chrome vanadium electric steel, forged, oil hardened
Chrome-plated for the best rust protection
Knipex Cobra: several manufacturing steps for high tool quality
Professional users expect a tool quality that will last for many hard years of work. We develop and manufacture our pliers for the most demanding users imaginable: for craftsmen. Every pair of pliers from Knipex is manufactured to the highest standards using the best materials. A purchase for many years of use during assembly work, on the building site, in production and in the workshop.
Convenient and fast: fine adjustment at the touch of a button
Fast and accurate adjustment directly on the component
Self-locking effect due to teeth offset against the direction of rotation: firm hold of the component even under heavy loads
Has a self-locking grip on various sizes of flat, round and angular components