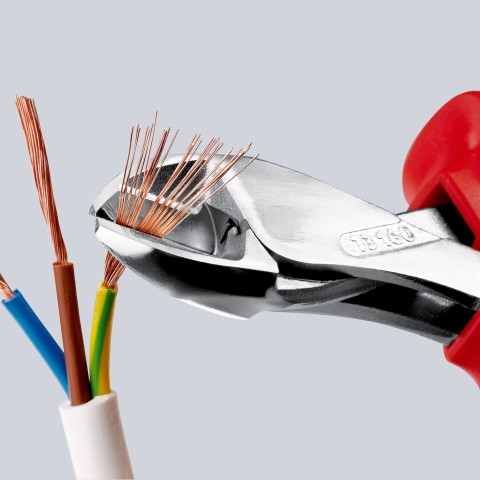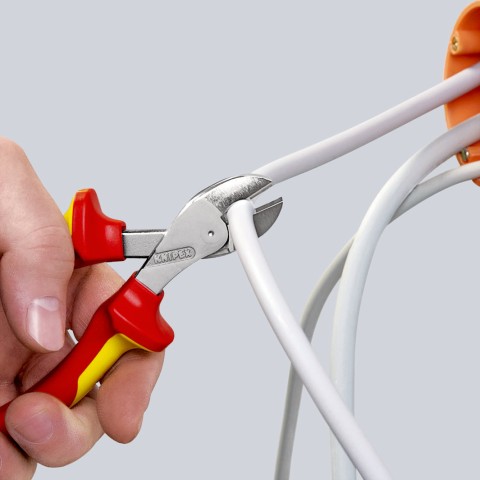 73 02 160

KNIPEX X-Cut®

Compact Diagonal Cutter High lever transmission

Cuts finest strands as well as multi-core cables and piano wires
Powerful, light and universal
High cutting performance with minimum effort due to optimum coordination of the cutting edge angle and transmission ratio
Box-joint design: highest stability with low weight
Doubly supported joint axis for heavy duty
Large opening width for thicker cables
Cuts precisely, even through fine copper wires
Compact, low-weight construction
Universally usable, in the assembly, maintenance and production
40% less force required compared with standard diagonal cutters of the same length
Chrome vanadium heavy-duty steel, forged, multi stage oil-hardened
Technical attributes
with multi-component grips
Cutting capacities soft wire (diameter)
Cutting capacities medium hard wire (diameter)
Cutting capacities hard wire (diameter)
Cutting capacities piano wire (diameter)
Cutting capacity copper cable, multiple-stranded
Compact tool for big tasks
Accurate cuts on thin wire, thick cable and spring steel
Thanks to the geometry of the cutting edges and the high-quality chrome vanadium tool steel, accurate cuts of fine copper wire as well as thick, multicore cable with a diameter of up to 12 mm are possible using the Knipex 73 02 160 X-Cut. The cutting edges of the X-Cut bite their way unperturbed through nails and all kinds of wire through to spring steel wire (piano wire).
Big energy savings due to high transmission ratio of manual force
The small tool that is big on energy saving. The extremely high transmission of manual force leads to around 40 % less effort required compared to conventional diagonal cutters of the same length. Weight only 175 g, length only 160 mm and a large opening width: the ideal statistics for this compact tool.
Tough and strong: box joint design, double guide and double mounted joint axle
The design of these compact diagonal cutters with box joint design offers the greatest possible stability because the handles of the pliers stabilise each other in the joint: the joint axle of the Knipex 73 02 160 X-Cut is mounted on two sides; the edges of the inner pliers handle are guided on either side.
Brief overview
High transmission compact diagonal cutters
Knipex quality – Made in Germany
Professional users expect a tool quality that permits simple and safe work and which will also last for several years of hard use. We therefore forge our tools from quality materials, machine them with great precision on up-to-date machinery, and harden them carefully using repeated heat treatment. More than 130 years of specialist pliers expertise is in every pair of Knipex pliers.
The box joint design ensures the greatest stability with low weight.