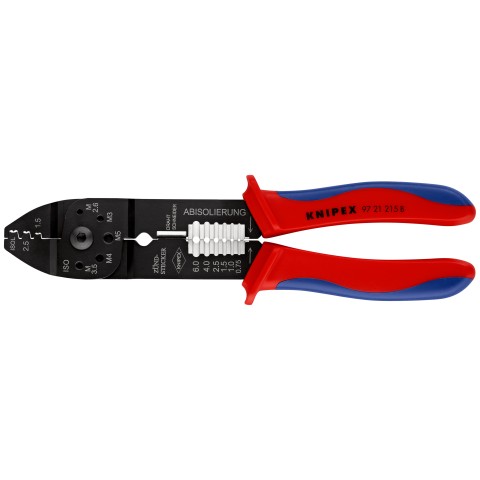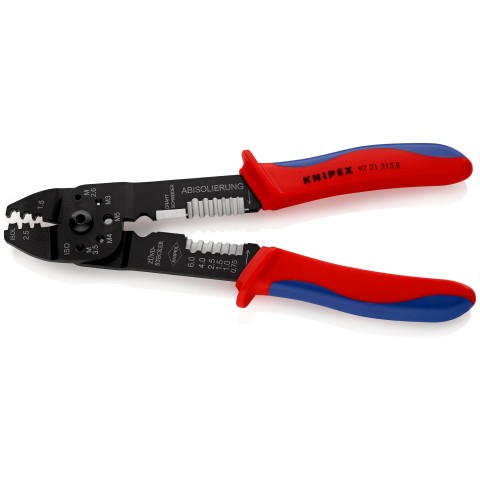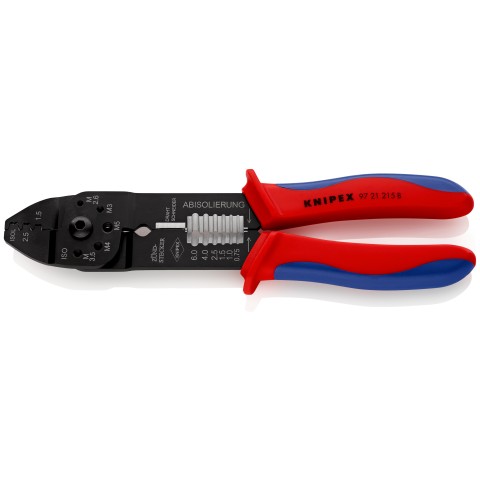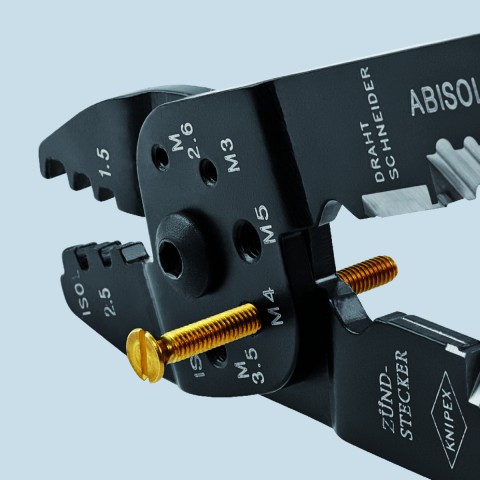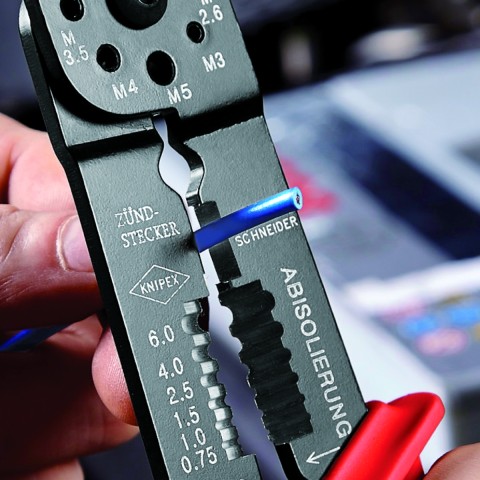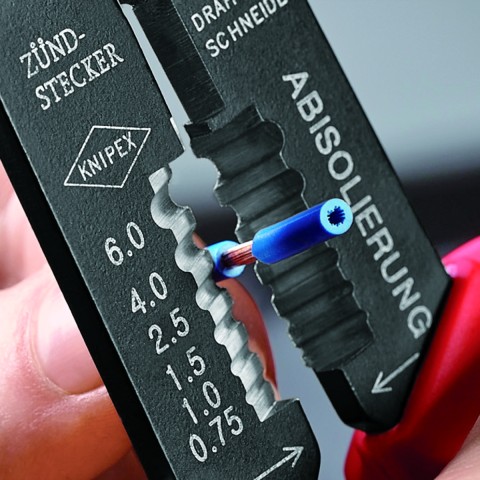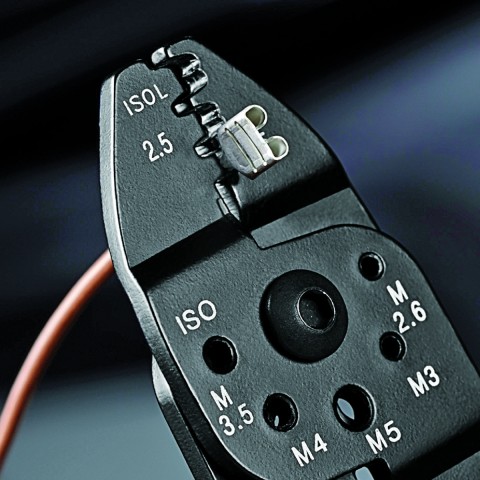 97 21 215 B

Crimping Pliers
With threaded holes for cutting copper and brass screws threaded M 2.6 / M 3 / M 3.5 / M 4 and M 5
Bolted joint for higher stability and even movement
Special steel, high-strength
Technical attributes
with multi-component grips
non-insulated open plug-type connectors (plug width 6.3 mm)
Capacity in square millimetres
Number of crimping positions
For cutting, wire stripping, crimping and shortening: the multifunctional pliers
An all-round tool with several useful aspects
On an airfield for model aircraft, in a hobby room, on the car, in the camper van: in a professional and semi-professional environment, the Knipex 97 21 215 B crimping pliers are ideal. Especially for smaller projects and tasks when the full range of tools is not available. Flat and pleasantly light at 290 g, you can easily take them with you in a jacket pocket or the outside pocket on work trousers. Thanks to the screwed, smooth-running and stable joint, all functions on these crimping pliers can be operated well. The multi-component grips are comfortable to use.
Cutting and insulating fine wire, shortening threaded pins and screws
These universal crimping pliers can also be deployed before crimping: e.g. for cutting and stripping cable and wire. The suitably dimensioned openings prevent damage to the strands during wire stripping. A further function is available. As these crimping pliers are manufactured from high strength special steel, threaded pins and screws made of soft material can be accurately cut to length, while the thread is protected.
Reliable crimping of non-insulated, open plug connectors
Crimping (crushing) open plug connectors is an art, and depends on using the right amount of force. There must be enough for the cable in the plug connector to be held securely, which is important to prevent spark formation and faults caused by loose connections, however the delicate plug connectors in the cable organiser must not be crushed and look unsightly. Open, non-insulated plug connectors can be crimped well using the Knipex 97 21 215 B crimping pliers.
Brief overview
Universal crimping pliers for non-insulated, open plug connectors
Cut cable and copper wire up to 6.0 mm²
Manufactured from high strength special steel for optimum work results and a long tool life
With multi-component grips

Crimping pliers from Knipex: high quality from universal to special pliers
Knipex offers a wide range of universal and special pliers for cutting to length, wire stripping and crimping. Every pair of pliers at Knipex is manufactured on modern machinery using special steel that is perfectly suited to the application in question.
The great benefits of the tools and safe, comfortable use in everyday work are the results of decades of toolmaking experience, constant product development and the commitment by Knipex towards high quality standards.

Shortening cables
Cable can be cut cleanly using the sharp cutting edge of these crimping pliers.

Multi-component grips
The 97 21 215 B crimping pliers with multi-component grips sit comfortably in the hand.

Reliable wire stripping
Cable with cross-sections of 0.75 / 1.0 / 1.5 / 2.5 / 4.0 and 6.0 mm² can be insulated without damaging the conductor.

Accurate crimping
Non-insulated blade terminals with roll crimp are reliably crimped.