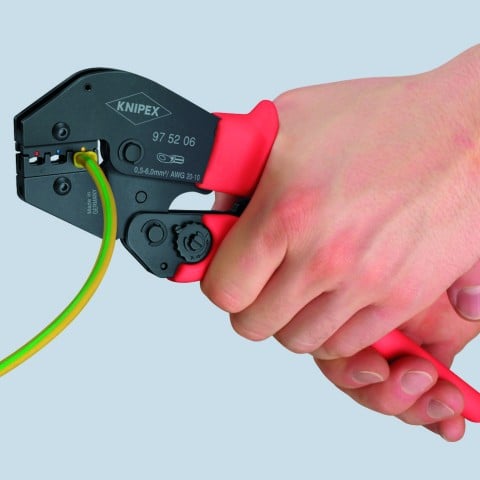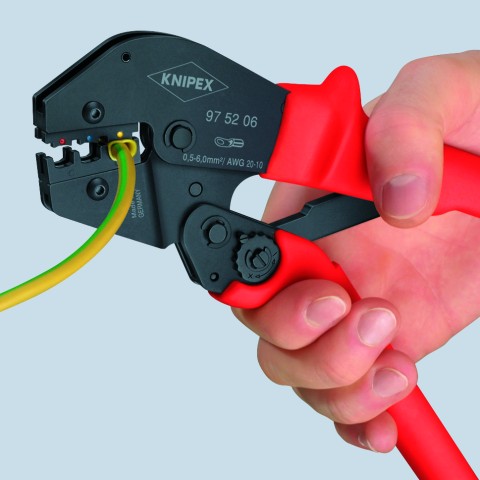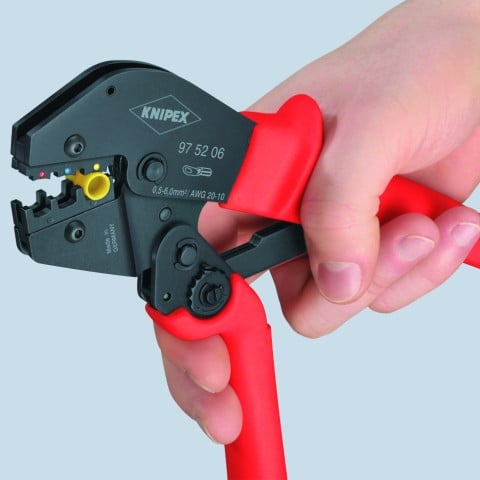 97 52 19

Crimping Pliers

For two-hand operation
For solder-free electrical connections
The ingenious lever transmission reduces the handforce up to 30% compared with regular crimping pliers
Consistently high crimping quality thanks to precision dies and ratchet mechanism (unlockable)
Tools have been set precisely (calibrated) in the factory
Two-hand operation for easy crimping of large conductor diameters
Easy handling as a result of well balanced centre of gravity, angled head and ergnomically shaped handles
Special quality chrome vanadium electric steel, oil-hardened
Technical attributes
with non-slip plastic grips
insulated and non-insulated wire ferrules
Capacity in square millimetres
Number of crimping positions
Extremely user-friendly: precision requiring little time and effort
For the professional crimping of end sleeves (ferrules)
With the KNIPEX 97 52 19 crimping pliers, the crimping of end sleeves (ferrules) – also with large cross-sections – is remarkably simple. With this tool, the user intuitively does everything right, creating electrically safe connections.
Insulated and non-insulated end sleeves (ferrules) are reliably crimped to conductors in the precision-machined crimp profiles. The ideal crimping pressure has already been set in the factory.
The pliers only open once the set crimping pressure has been reached. This is ensured by the automatic integral lock. Where necessary, the integral lock has a release mechanism. The crimping pressure can be adjusted.
30 % less effort required – the leverage principle is used twice here
Applied physics are the reason why the Knipex 97 52 19 require up to 30 % less effort compared to conventional crimping pliers. Their ergonomic handles are shaped to produce a long lever arm. The pliers are long enough for two-handed operation on large cable cross-sections. Special leverage is also integrated in the crimping pliers, so that even a low level of manual force gets to the end sleeve (ferrule) in a well reinforced and carefully measured way. The user can produce stable connections from conductors and end sleeves with little time and effort.
A professional crimp connection in three simple steps
First step: an insulated or non-insulated end sleeve is inserted. Second step: the lower handle is pulled up using two fingers, until both jaws are resting on the plug connector to be crimped, thereby fixing it in the crimp profile. Step three: after inserting the stripped cable, crimping is carried out – accurately and securely. The high Knipex quality standards and selection of materials with high-grade chrome vanadium electric steel ensure that all the qualities of these crimping pliers will last for a long time.
Brief overview
Extremely user-friendly crimping pliers with lever transmission
For insulated and non-insulated end sleeves (ferrules) with a capacity of 35 – 50 mm²
Long lever arm for one-handed and two-handed operation
Toggle lever system for high efficiency
Integral lock (with release mechanism) only triggers on reaching the optimal crimping pressure
Consistently high crimping quality due to (adjustable) crimping pressure calibration
Knipex quality standards ensure ideal work results and a long service life
Firm grip in the hand thanks to ergonomic shape of the handle
Chrome high-grade vanadium electric steel; oil-hardened
Handles with non-slip plastic grips
Strong with large cross-sections
The crimping pliers are ideal for cross-sections of 35 mm² and 50 mm² due to the toggle lever transmission and possibility of two-handed operation.
Professional crimping result
Consistently high crimp quality and integral lock with release mechanism
Second crimping operation:
The crimping operation can be conducted a second time for very long end sleeves (ferrules).
Precision result
The precision die with two crimping dies for lasting secure connections
For calibration inquiries, please contact our affiliated company RENNSTEIG WERKZEUGE GMBH under the following contact:
Mr. Uwe Wagner
Tel .: +49 36 847 441-59
Domestic sales