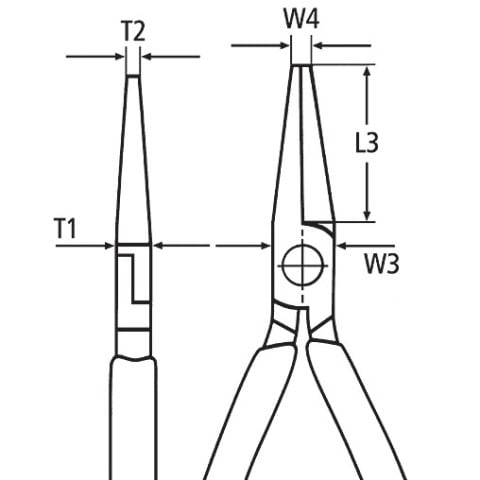 25 06 160

Snipe Nose Side Cutting Pliers

(Radio Pliers)
Suitable for finer gripping and cutting work
Half-round, long, tapered jaws
Knurled gripping surfaces
With cutting edges for soft, medium-hard and hard wire
Cutting edges additionally induction-hardened, cutting edge hardness approx. 61 HRC
Vanadium electric steel, forged, multi stage oil-hardened
Technical attributes
insulated with multi-component grips, VDE-tested
DIN ISO 5745 DIN EN 60900 IEC 60900
Cutting capacities medium hard wire (diameter)
Cutting capacities hard wire (diameter)
Jaw thickness (joint) (T1)

Snipe-nose pliers with additional cutting edge
Insulated pliers for gripping, positioning and cutting
The tapered snipe-nose pliers combine several special qualities. On the one hand, they are suitable for fine, easy control and firm gripping of workpieces, as well as powerful cutting of cables and wires. The cutting edges are shaped for a more efficient pierced cut similar to a diagonal cutter.
Additional induction hardening of the cutting edges (hardness approx. 61 HRC) lets the Knipex 25 06 160 cut cables, soft and medium-hard wire as well as hard wire.
Stable snipe-nose pliers – even under torsion and when cutting under force
The vanadium electric steel precision tips of the snipe-nose pliers are flexible and torsion-resistant. Larger workpieces are held securely and smaller ones are gripped gently. Manual force is transferred efficiently, as the cutting edges are close to the joint. Cutting values of Ø2.5 mm on soft/medium-hard wire and Ø1.6 mm on hard wire speak for themselves.
Freedom of movement even in confined spaces – even on live parts
The slim Knipex 25 06 160 snipe-nose pliers are a welcome tool especially for electricians and fitters. Thanks to their insulated handles, the pliers are also suitable for work on live parts. Because they taper to the front, workpieces, wires and components are easily gripped and held. Chrome finish effectively protects against corrosion.
Brief overview
Snipe-nose pliers (radio pliers) for finer gripping and cutting
Serrated gripping surfaces
Cutting values: medium-hard wire 2.5 Ømm, hard wire 1.6 Ømm
Forged from vanadium electric steel and oil hardened
Cutting edges also induction-hardened; hardness approx. 61 HRC
Chromed pliers; Insulated multicomponent grips for work on live parts; Pliers VDE tested
Length 160mm; Weight 146 g

Knipex quality – snipe-nose pliers
VDE tested high-quality snipe-nose pliers from Knipex are ideal for professional users, particularly in the electrical industry. People who use tools, expect a quality that allows them to work easily and safely. The tool should also withstand many years of hard use.
That's why we forge our tools from high-quality materials, processing them with high precision on modern machine tools and hardening them through careful multiple heat treatments.