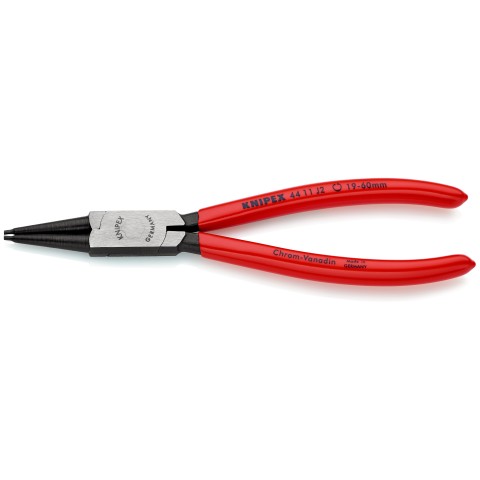 44 11 J2

Circlip Pliers

For internal circlips in bore holes
Solid style, forged
Non-slip, solid tips
DIN 5256 C, straight tips
Pliers body and tips: chrome vanadium steel, forged, oil-hardened
Technical attributes
Securely grip, dismantle and fit internal circlips
Accurate and stable forged tips with a diameter of 1.8 mm
The shape and quality of the tips of the circlips pliers are decisive when fitting and removing circlips. The tips grip into the installation holes of the circlips, which offer the tips of the pliers little room for manoeuvre. The tips of the pliers must overcome the high ring tension and hold the circlip securely after removal or before insertion. This places high demands on the accuracy and stability of the pliers tips.
With the Knipex 44 11 J2, the handle and tips are forged in one piece, which produces correspondingly high durability. The very accurately twisted tips are also machined so they slant inwards slightly. This angle prevents the circlips from springing off the tips.
Reinforced, measured manual force precisely into the installation holes
With pliers, the manual force that reaches the component is just one of many parameters. Of prime importance is that the force is applied to the component in an accurate, well-measured manner. This applies especially to circlips as they are subjected to bending pressure when fitted and removed. Thanks to quality machining, balanced tool geometry and precise joint, manual force reaches the circlip in a manner that enables the user to work in the best way: accurately, and gentle on hands.
Reach circlips well, grip and hold them accurately
Reliable circlip pliers like the Knipex 44 11 J2 noticeably simplify work. They have very slim working tips. They sit comfortably in the hand, can be positioned accurately in the circlip installation holes and hold the circlips firmly. Working with first-class circlips pliers saves a great deal of time, as anyone who has tried to extract a circlip from a drilled hole using makeshift tools will know. Having to search the workshop for a circlip because the tips of poorly machined circlip pliers have failed to hold it well can also take a long time. With the Knipex 44 11 J2, every circlip and every hand movement sits properly.
Brief overview
Slim circlip pliers for internal circlips in drilled holes
For the simple and professional fitting and dismantling of circlips in drilled holes with a diameter of 19 - 60 mm
Tough: handle and tips forged from chrome vanadium steel and hardened and tempered in oil
Non-slip, slanted, stable tips with a diameter of 1.8 mm
Pliers black, phosphate-treated; head with precision finish
Handles coated with non-slip plastic
Circlips pliers from Knipex – every hand movement sits properly
Knipex offers an extensive range of circlips pliers for applications from precision engineering to ship engine manufacture.
Those who use tools a lot and professionally every day expect a quality that permits simple and safe work and which lasts for many years of hard use.
We forge our tools from quality materials, machine them with high precision on modern machinery and harden them with careful heat treatment. Every pair of Knipex pliers represents 130 years of specialist know-how.