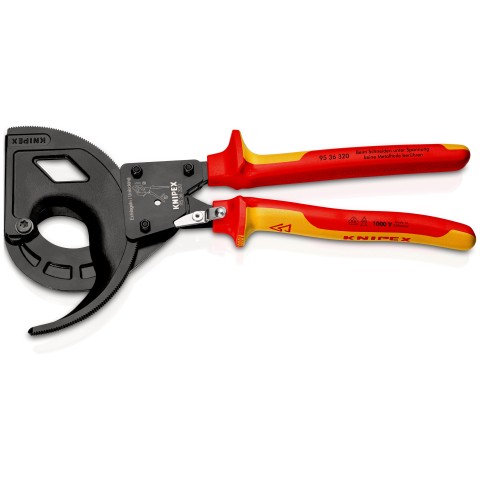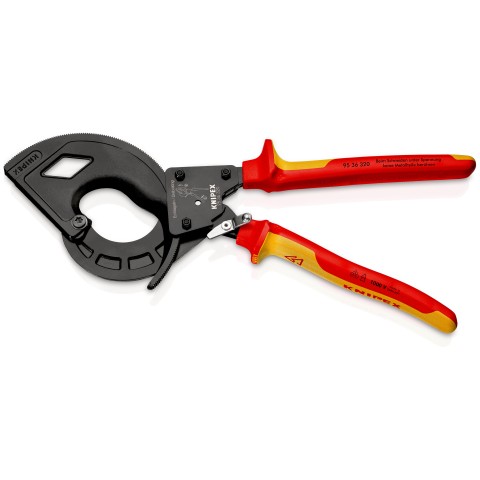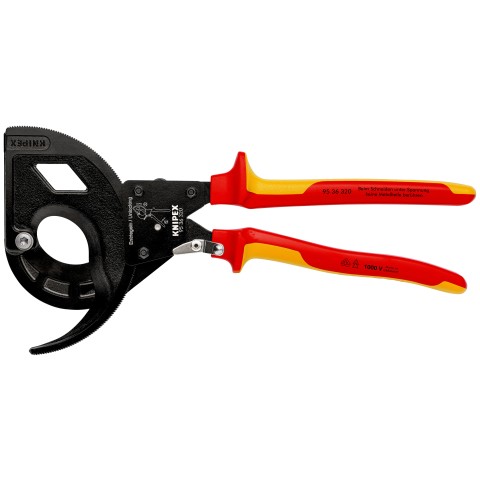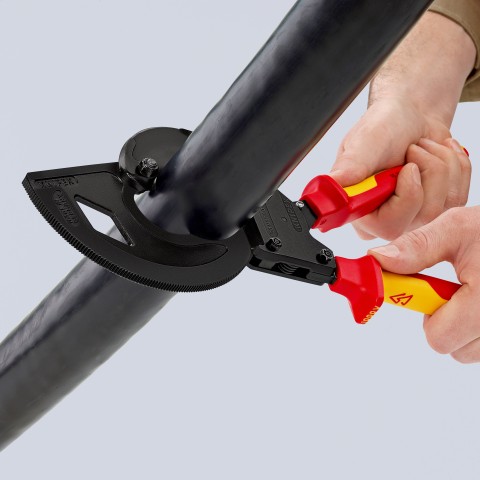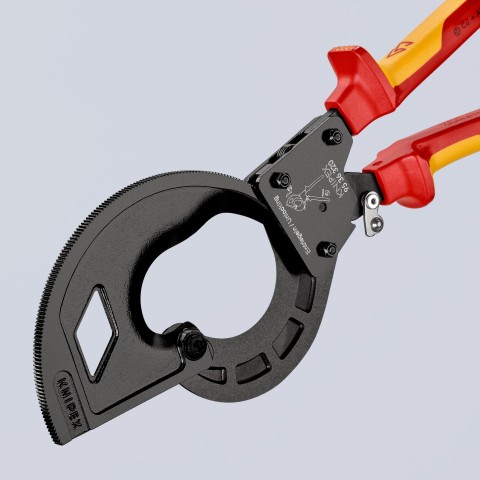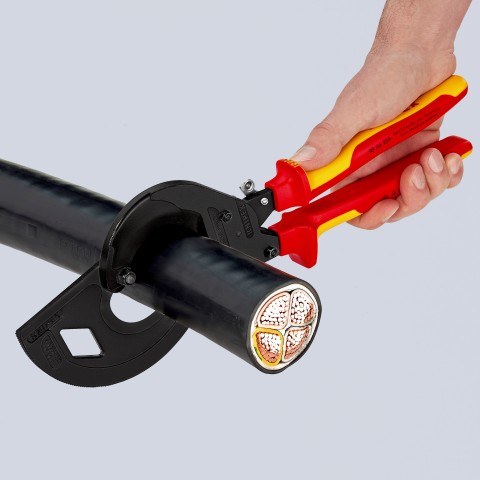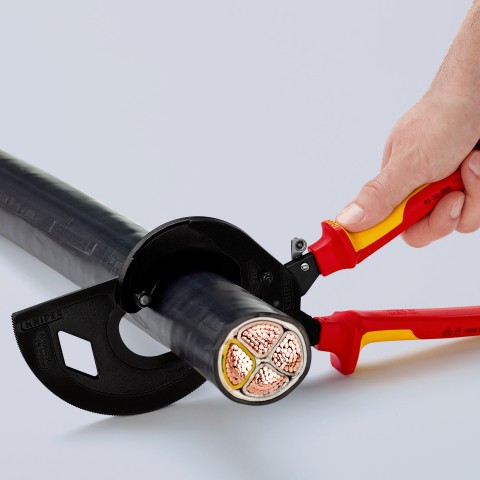 95 36 320

Cable Cutter

(ratchet principle, 3-stage)


Sturdy. Easy to use. Stable.
Innovative ratchet-drive.
For cable up to Ø 60 mm
Fixed handle with support area for putting down the pliers when cutting
Easy handling due to low weight (825 g) and compact construction (320 mm length) - also usable in confined areas
Cutting through copper and aluminium cables up to Ø 60 mm in one-hand and two-hand operation
Hardened, precision-ground cutting edges cut smoothly and neatly without crushing
For cutting copper and aluminium single conductors as well as multiple stranded cables
Innovative three-stage ratchet-drive with high leverage for easy cutting in one-hand and two-hand operation
Not suitable for steel wire, wire ropes and fine-stranded (highly flexible) conductors
High-grade special tool steel, forged, oil-hardened
Technical attributes
insulated with multi-component grips, VDE-tested
Cutting capacity copper cable, multiple-stranded
Cutting capacity copper cable, multiple-stranded
Three speeds and many benefits: Knipex 95 36 320 VDE cable cutter
Three performance levels, 320 mm long, makes work much easier
Cutting cables of larger diameters is usually one of the less popular tasks amongst installers. Sawing is a lengthy process. Cable shears without transmission quickly reach the limits of manually applied actuating forces. That is why reduced workload was placed at the top of the agenda when the Knipex three-stage cable cutter 95 36 320 was developed. The Knipex cable cutter can cut through cables up to 600 mm² in diameter and requires only modest manual effort. Depending on the cable thickness, one of three performance levels and the associated cutter feed is selected. The sprocket drive holds the cutting edges in position when getting a firmer grip. The user can continue cutting at exactly the same point. This results in a consistently clean cut. After the wire is stripped, the ends can be connected without further processing thanks to the straight cut edges.
Forged and hardened using special tool steel.
Cable cutting is among the toughest challenges for electricians. The Knipex 95 36 320 cable cutter is built to last. Its cutting edges are sharp enough to cut through insulation cleanly. They are hard enough for multi-strand and single-strand wires with cross-sections up to 600 mm² without damage. The hardened cutting edges stay sharp longer.
VDE-tested fixed handle with support, good grip, opening spring
When cutting large cable cross sections, two-handed operation of the Knipex 95 36 320 cable cutter is an effective option. The three-speed ratchet mechanism offers a favourable grip position for all cable cross-sections. The compact design of the Knipex 95 36 320 cable cutter make it ideal for use in confined spaces.
Brief overview
Robust hand ratchet cable cutter for one- and two-handed operation, VDE-tested
Knipex special tools – saving time for busy tradesmen
In addition to the range of shears, Knipex also has other special tools that complement applications using shears. The selection ranges from universal stripping tools and special wrenches for control cabinets and shut-off devices to tools such as the cable cutter with three-stage ratchet mechanism shown here. Although these tools are very different, they have one thing in common: Knipex quality. Professionals who use tools a lot every day rely on a quality that enables them to work easily and safely and that can withstand many years of service. We produce our ratchet cable shears from high-quality, carefully selected tool steel and processing them with high precision on modern machine tools. All pliers from Knipex embody over 130 years of specialist expertise.
3rd gear for fast, easy cutting
With handles fully open, the sprocket drive moves forward three teeth per stroke. For fast work at full stroke.