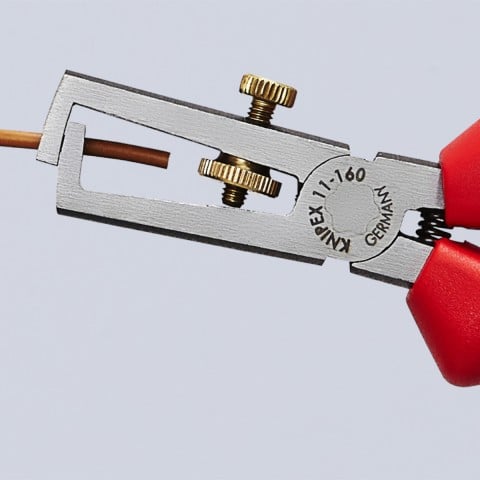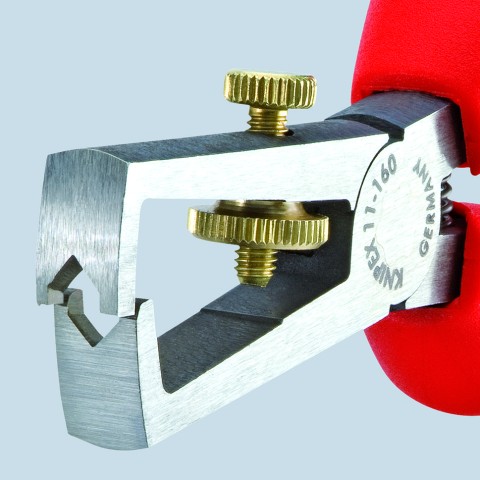 11 02 160

Insulation Stripper

With opening spring, universal
For single, multiple and fine stranded conductors with plastic or rubber insulation up to Ø 5.0 mm or 10 mm²
Easy adjustment to the required diameter of solid or stranded wire with knurled screw and lock nut
Special tool steel, forged, oil-hardened
Technical attributes
with multi-component grips
Stripping capacities in square millimetres
Stripping capacities (diameter)
Standard wire strippers for standard insulation
For plastic and rubber insulation materials
As standard wire strippers, the Knipex 11 02 160 are mainly used for wiring frequently laid NYM cable (NYM stands for "standardised cable / PVC wire insulation / sheathed cable"). Fitters who want to wire a large number of sockets in one work step while consistently stripping wires with 1.5 mm², for example, have the right tool to hand to remove the insulation from conductors up to Ø 5 mm or a 10 mm² conductor cross-section. These pliers are also the right tool for stripping flexible conductors in rubber cable as connection or extension lead.
Proven knurled screw for adjusting the conductor cross-section
The pliers are set to the conductor cross-section using the knurled screw so that only the insulation is cut into without damaging the conductor. The knurled screw is secured with the inset lock nut to maintain the precise adjustment even during longer periods of work. This simple technology has been tried and tested by electricians for decades.
With strong construction for long tool life, convenient to use
Knipex 11 02 160 wire strippers are forged from special tool steel and additionally oil-hardened. The opening spring nestles the pliers gently in the user's hand, thereby substantially reducing strain in hand muscles when holding the pliers tight. As a basic protection against rust, the wire strippers are phosphate-treated in black. The head of the pliers has a precision finish. Thanks to this machining and finishing step, when used correctly this prepares the pliers for a long tool life. With their multi-component grips, the handles sit comfortably in the hand.
Brief overview
For plastic or rubber insulation up to Ø 5 mm or 10 mm² conductor cross-section
Handles with multi-component grips
Pliers black, phosphate-treated; head with precision finish
They are an indispensable part of the everyday work of electricians. Classic wire strippers from Knipex perform a valuable service wherever standard, consistent wire stripping work is called for.
The great benefits of the tools and their safe, comfortable use are the results of decades of experience making pliers, continuous development and Knipex's commitment to high quality standards.
Pliers from Knipex are built for many years of use in a professional environment.
Adjustment to the conductor cross-section
The wire strippers are set to the right conductor cross-section using the knurled screw and lock nut.
Cutting into the insulation
Correctly adjusted, the wire strippers cut into the cable insulation without damaging conductor or strands.
Stripping the insulation
After the insulation has been cut into, it can be removed from the conductor effortlessly.
Tough and durable
The strong pliers are forged from special tool steel, oil-hardened and black atramentized.